If you are looking for he best malls in Lusaka, you are in the right place. Lusaka is the capital city of a country in Africa called Zambia. Zambia is a landlocked country in central Africa. Lusaka, being Zambia's capital city, boasts many tourist attractions, educational institutions, and places of worship. The official language spoken in Lusaka, Zambia is English. Other languages spoken in Lusaka include Bemba and Nyanja. Lusaka has a population of approximately 2.7 million people.
Lusaka boasts of Zambia's financial and economic hub. People from all over the world go to Lusaka to do business. Many South African investors have invested in Lusaka because it is a business hub. In Lusaka, there are many malls with different services offered. Are there malls in Lusaka? Where should you go if you want to go shopping? If it is your first time visiting Lusaka, here are some malls where you can visit for fun and do some shopping.
Our list of Malls in Lusaka
Cosmopolitan Mall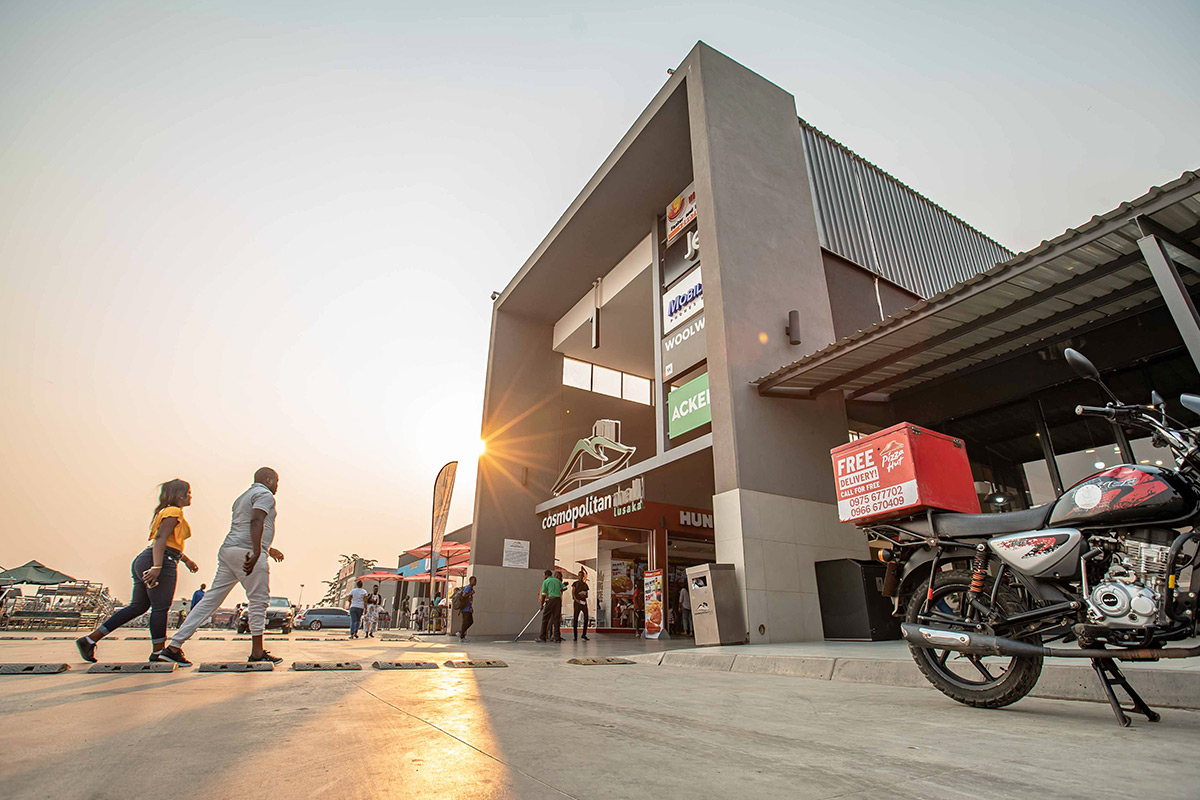 This is a mall located in along Kafue Road in Lusaka. It was The Cosmopolitan mall is a luxury shopping mall and has several stores inside it. It is easily accessible in Lusaka via road. The Cosmopolitan mall is open from 8 AM to around 9 PM and 11 PM on Fridays. The Cosmopolitan mall has huge parking that can fit up to 1183 cars. Inside the Cosmopolitan mall, there are quite many restaurants, supermarkets, ATMs, and shops. The Cosmopolitan mall's main stores are Shoprite, Game, and Edgars. It also has stores such as Mr. Price, Jet, Max Clothing, Woolworths, Pep, Truworths, and OK Furniture.
The Cosmopolitan mall has many restaurants in it like Mahak Restaurant Cosmopolitan Mall, Pizza Hut, Roman's Pizza, Hungry Lion, and Machachos Mexican Fiesta among many others. The Cosmopolitan Mall also boasts jewelry shops, banks, salons, spas, pharmacies, and gadget stores. There are also kids playing zones where parents can take their kids to play while they shop. The owners of the Cosmopolitan mall made sure they made everything available there. This makes it easier for shoppers to get everything under one roof and saves a lot of time. The Cosmopolitan mall is a convenient mall for all the shoppers.
---
Levy Junction Mall
It is a mall located along Sadzu Road in Lusaka Zambia. Just like the cosmopolitan mall, Levy Junction mall has a lot of shops, stores, and food courts. Stores that are in Levy Junction Mall include Edgars, Mr. Price, Levi, Jets, Woolworths, Truworths, Nine West, and Foschini.
The fast food joints include Kentucky Fried Chicken (KFC), Steers, Wimpy, Mugg and Bean, Hungry Lion, and Steers. These food joints are good areas for families and friends to eat out and enjoy socializing. You will find the food joints with many people, especially during the weekends and holidays.
The biggest supermarket in Levy Junction Mall is the Pick n Pay supermarket. It offers a variety of fresh produce, home appliances, and quality products at affordable deals. The services offered at Pick n Pay are exceptional.
Unlike Cosmopolitan mall, Levy Junction mall has the Fresh View Cinema complex where people can watch cinemas and movies. This cinema complex has six cinemas where people can watch different movies.
The Levy Junction mall also has bookshops, jewelry shops, electronic shops, and clothing shops. The Levy Junction mall also has shoe stores, pharmacies, and mobile phone stores. It is easily accessible even for people who use wheelchairs. The mall is usually 24 hours open.
---
East Park Mall
It is a mall in Lusaka along Thabo Mbeki Road, Great East Road. It is located within Lusaka's CBD area. This makes the mall accessible. The East Park Mall is open every day of the week from 8 AM to 11 PM. The East Park mall is quite big and has over 65 stores and 17 food courts. The shoppers who visit East Park mall have access to everything they might need under one roof.
East Park boasts beautiful contemporary exterior designs that attract people to go and visit the mall. It has beautifully landscaped gardens where shoppers can relax after spending some time shopping. The different stores present in East Park mall include Pick n Pay, Toys R Us, and Shoprite.
Some of the food court and entertainment joint options available include Marlin, Cosa Nostra Dinner & Coffee, RocoMamas, Bombay Lounge, Debonairs Pizza, Colour Cafe, and Amalgam Restaurant among others. Food and fun lovers are spoilt for choice in the East Park mall as it has a variety of spacious restaurants available within the vicinity. One can also go to the lounges available to grab a cocktail or beer if one fancies it.
In the East Park Mall, there is a gym where fitness enthusiasts can enroll in membership. One can also get personal training sessions at their convenience. If you and your friends want to hit the gym and keep fit, the gym can also tailor group sessions.
---
Arcades Shopping Mall
It is one of the famous malls in Lusaka, Zambia. It is located along the Great East Road, Showgrounds, in Lusaka. The Arcades Shopping mall is big. It has over forty stores. It is a one-stop shop for everyone. Everyone in the family can enjoy shopping at Arcades shopping mall because there is something for everyone there. The mall is open every day of the week from 7 AM to 10 PM.
At Arcades shopping mall, you will find SPAR supermarket. The SPAR supermarket offers a variety of fresh products to the residents and visitors of Lusaka. SPAR supermarket makes grocery shopping very convenient for all.
Other retail stores in Arcades shopping mall offer goods and services to the people of Lusaka. The different stores sell clothes, electronics, shoes, and jewelry. In the different stores, people can get discounts, seasonal sales, and special offers. Many shoppers take advantage of this. The Arcades shopping mall also has banks, ATMs, and bureaus where people can change their money to other currencies.
There is the Kinerkor Cinema complex at Arcades shopping mall. This is a huge advantage for the mall as many people in Lusaka enjoy going to the cinemas to watch movies. Friends and families go to watch movies during the weekends, holidays, and during their free time.
Food lovers are not left behind in this mall. There are several restaurants available for the people who visit Arcades shopping mall. These restaurants include Ocean Basket, Mike's Kitchen, Rhapsody's, Dolphins, Chicken and pizza world, and Wimpy. The Arcades shopping mall has the Lusaka Royal Casino. This is a big plus because many casino lovers get to visit the mall. Room 101, a nightclub, is present at the Arcades shopping mall. People go to have some fun, drink, and dance in Room 101.
The Arcades shopping mall is a tourist attraction on Sundays called Pakati. This is because it becomes a market day where different vendors sell their Zambian arts. Visitors can visit the mall on Sundays to know more about Zambian culture and other countries' cultures too. The Arcades shopping mall is the ultimate place to learn and experience Zambian culture.
---
Novare Great North
This is a mall located in Lusaka along the Great North Road. It was opened on June 1, 2019. This large shopping mall boasts many amenities. It is a green mall and is energy efficient. The Novare great mall uses energy-saving methods like using energy-saving lights, reflective tiles for the roof, and a variable refrigerant flow cooling system to conserve energy. The mall also uses dual flush water closest to save as much water as possible.
A fun fact about the Novare Great North mall: It has two major retail shops. It is the only mall in Lusaka to have Pick n Pay and Shoprite at the same location. This makes it even more convenient for the shoppers in Lusaka. Lusaka shoppers are spoilt for choice when they want to shop in Novare Great North shopping mall. Shoppers can get their fresh produce and groceries from Shoprite at any time. The shoppers get a chance to enjoy discounts, sales, and special offers in the retail shops.
There are other fashion and accessories retail shops like Bata, AAroka, Frina Boutique, Pep, Wizani, and The Vibe among others. Shoppers can get a variety of goods and services from the shops above. There are banks and jewelry stores available too.
Kids have not been left behind at Novare Great North shopping mall. There is Fun world game time and playtime. This offers many games. Parties can also be held in the fun world section and kids can enjoy themselves when they go there.
The Novare Great North shopping mall is open from Monday to Sunday from 9 AM to 1900PM. It is easily accessible by road and people who use wheelchairs can access the mall with ease. Dogs are allowed inside the mall. The Novare Great North mall offers free parking for all its shoppers.
---
Centro Kabulonga
This is a shopping mall in Lusaka. It is located at the corner of Bishops and Kabulonga Road. It is open from Monday to Sunday from 8 AM to 8 PM. The Centro Kabulonga is a one-stop shop for everything. In the shopping mall, you will find a variety of services and goods sold.
When you visit the mall, you will find Pick n Pay store. At Pick n Pay, a shopper will be able to buy groceries and other things at affordable prices. If a shopper wants to buy clothes, he or she can go to Woolworths and get them from there. There is also the LG retail store where one can buy kitchen appliances at reasonable prices.
There are banks available for the shoppers if they want to conduct any transactions. The banks available at Centro Kabulonga shopping mall include Stanbic Bank and Barclays bank. The Centro Kabulonga also has optical shops where one can get their eyes checked.
There are several restaurants to dine at. They include Turn n Tender Steakhouse, Kentucky Fried Chicken (KFC), Nandos Kabulonga, Roman's Pizza Kabulonga, Debonairs Pizza, and others.
The Centro Kabulonga shopping mall also has rental shops available for any retailer that might want to start up a shop in the mall.
---
Goldcrest Mall
This is a shopping mall located along Tokyo Way, Kamwala South Lusaka. A relatively small shopping mall can be easily accessed. It has parking that can accommodate the shoppers who visit the mall. At the mall, different retail shops sell different types of goods and offer different services.
A shopper can find banking institutions, electronic shops, groceries, and food. For food lovers, there are restaurants such as Debonairs, which offer amazing pizza. There are other restaurants like the Milky Lane Goldcrest Mall, Mochachos Goldcrest Mall, and Uncle Jimmy's.
The mall is usually open daily from 8 AM to 10 PM on Monday to Thursday and 11 PM from Friday to Sunday. Families visiting the city usually spend time visiting the mall to buy things and to have a good time.
---
Garden City Mall
It is a beautiful mall located at the Airport roundabout in Lusaka. It boasts of many retail shops, and restaurants and has among the biggest brands available there.
The Garden City mall has the Pick n Pay retail shop. Shoppers can get what they need here. Pick n Pay has groceries, electronics, shops, and many other things shoppers need. Shoppers get special offers, discounts, and promos in retail shops in this mall.
The mall also houses Home Essentials, Bombay Lounge and Fresh View. Shoppers get everything they need from this mall and are convenient for everyone who visits the mall.
The mall is easily accessible both by road and on foot. It is open daily from 8 AM to 10 PM. The mall also has banking institutions, jewelry shops, and other amenities. Security at the mall is top notch and cars in the large parking slots are well guarded.
There are many other malls in Lusaka Zambia. These are just a few that you can visit if you are in Lusaka. Without a doubt, you will have a good time while visiting these shopping malls.