If you are looking for some of the best travel agencies in Pretoria, look no further. In addition to carrying so much of South Africa's history as one of the country's 3 capital cities, the city of Pretoria has plenty of latent potential namely, its nature reserves, official buildings, and its even travel agencies. Particularly, the travel consultancies have unique stories to both create and share with us.
Pretoria may be known as the more moderate part of the Gauteng Province, but it should not be underestimated. Travelling from the metro can be both pleasant and fulfilling. And using a travel agency can heighten the experience.
If you are from the city and are a businessman or woman, a couple looking to celebrate an anniversary, or just a regular tourist, and are anticipating the upcoming holiday season by wondering about how far away from your desk you can get, this article was tailor written for you. We are in tough economic times so we, therefore, recognise the urgency to save costs and energy where we can. Travel agents are adequately equipped to manage these and other criteria to provide you with the support you may need as you consider your proximate travel plans and options.
Our list of best Travel Agencies in Pretoria
We will be exploring this important part of Pretoria's tourism sector by covering a list of the best travel agencies to be found in it. These agencies were not chosen by us, but by their users. They have been rated highly by their clients for their requisite travel expertise, their professionalism, and admirable service. They are:
Flight Centre Brooklyn Mall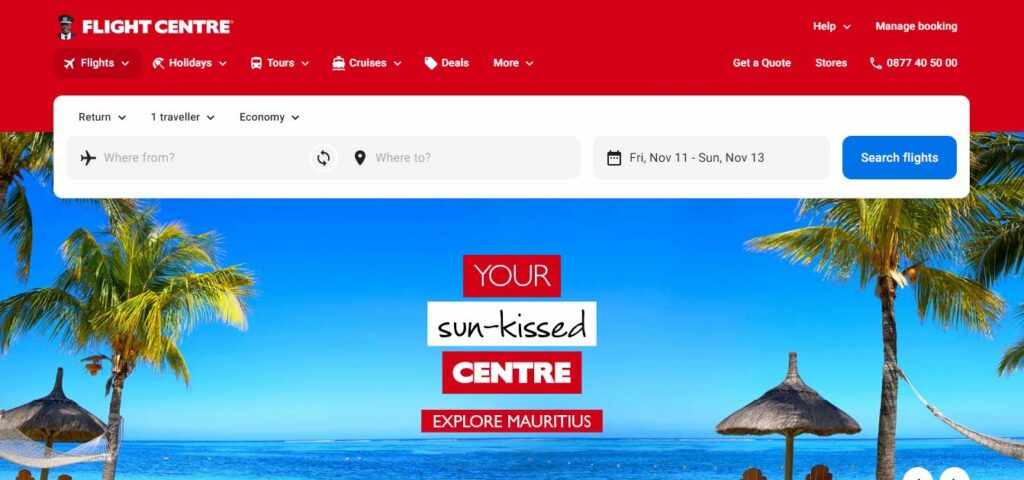 The international and listed Flight Centre Travel Group was founded in Australia and operates in New Zealand, the United States, Canada, Europe, and Asia. Its South African operations were established in 1994. As one of the country's largest holiday companies, the agency has over 235 businesses in the leisure, corporate, wholesale, and support functions. Flight Centre is aiming to increase its footprint in Africa.
The Brooklyn Mall Flight Centre branch finds itself within Pretoria's cosmopolitan Embassy suburbs, in the vibrant hub of the capital's most prestigious neighbourhood – Brooklyn. According to 24 out of 32 Google reviews, the service at the office matches its revered location. 2 SAYellow.com reviewers could also not help but recommend the agency through their 5-star ratings. Local.Infobel.co.za reviewers were also impressed by the company, giving a 4.5-star rating between them both.
In general, Flight Centre's reviews are varied, with a 4.9 out of 5 Trust Pilot rating but a Hello Peter score at a lacklustre 3.6-stars. But the Brooklyn Flight Centre branch seems to be consistently satisfactory.
---
Jenny's Travels CC
Jenny's Travels has several destination experts and specialist travel account managers that can provide a personalised and convenient service to its clients. The agency works on a relational basis; it can negotiate preferential rates with airlines worldwide and suppliers such as hotels, car hire firms, cruise companies, tour operators, travel insurance, foreign exchange providers, and others. It is available to inspire and guide the travellers that choose it.
Jenny's Travels is in Lynnwood and has been operational since 1994. The January 2023 promotional packages include 7-night stays in Mauritius, Zanzibar, Seychelles, and Cape Town.
The distribution of the company's 23 Google reviews, which come to a final tally of 4.2 out of 5, is as follows:
• 1-star: 4
• 3-stars: 1
• 4-stars: 1
• 5-stars: 17
Other reviews from the web range from 2- to 5-stars, owing to the varied experiences of the company. While some felt deceived by its marketing tactics, others felt attended to professionally.
---
Brooklyn Travel
Brooklyn Travel is a collection of travel brands that can cater to differing travel requirements. From luxury holidays to business trips and family getaways, the company can manage them all by their scope of tour operators, travel agencies, and corporate travel solutions. The agency's head office is in Nieuw Muckleneuk. Its brand suite includes Villa Select, Cruise Kings, Golf Kings, and My Canada Trips.
The agency only has one social media profile, which is Facebook but has been reviewed on a few companies' rating sites. While it is scant at describing its activities, a Facebook reviewer excitedly granted it 5-stars and exclaimed: "Awesome service and always willing and ready to assist…" Brooklyn travel also earned 5-stars from 2 Facebook reviewers.
The agency's 8 Google reviewers were just as generous, awarding it a notable 4.8-stars. There are only 4- and 5-star reviews on the search engine's results page. The only commenter confessed to only using Brooklyn Travel to make their bookings.
The company's other ratings are divergent. 25 users of the African Advice review site gave Brooklyn Travel 2-stars.
Pentravel Brooklyn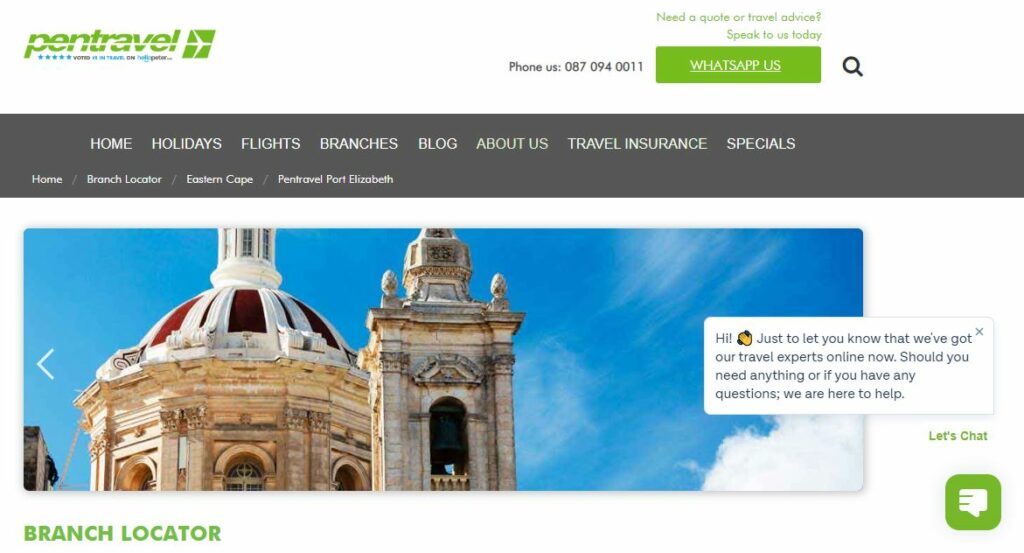 Pentravel has been in the tourism business since 1983 and has a nationwide presence; they are driven by their sole purpose to make people happy. They call their mission: 'Delivering Sunshine.' They accomplish this by building relationships based on trust. They aim to create the very best customer experience.
Because they seek to maintain a focus on their clients and to know them intimately, they have a pledge in the form of a Price Promise: If a client happens to find the exact same holiday package at a more affordable price through any other South African registered travel agency, they will match it.
Pentravel's commitments have earned them the top spot in Hello Peter's travel category, and they are high on the site's trust index (8.8 out of 10).
Given Brooklyn's placement in Pretoria, the Brooklyn Pentravel branch is also highly esteemed. There are only 4- and 5-star reviewers in the Google review section. The 11 reviewers agreed that the office's staff is friendly and helpful. A lone SA Yellow reviewer also gave the branch 5-stars.
Vacations Unlimited
Vacations Unlimited is a travel agency that services leisure and corporate clients with domestic and international travel arrangements. The agency assures travellers that no task is too complicated; they can address all travel needs. They have been in business since 1951 and are based in St. Arcadia, just a block away from the American and Chinese Embassies.
The company's website is in the process of being updated but information on its services is available on Facebook. Vacations Unlimited regularly posts travel news on its sole social media platform, where it has been reviewed by 4 visitors with 5-stars each.
One of its 6 Google reviewers wrote: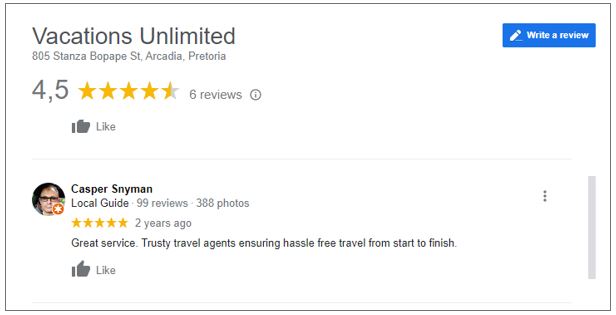 Assi Tourism & Travel Agency
Assi Tourism & Travel Agency sits in Wonderboom and manages travel within the borders of South Africa. They have planned all-inclusive vacations, charters, tours and holiday packages for individuals, families, and other groups to the coastal cities of Cape Town and Durban. They can also organise honeymoon cruises along the Indian Ocean or dives just off the Stellenbosch. Assi Tourism can handle any national leisure travel request.
The company has a very minimalistic website and a negligeable digital presence, but its client interactions elaborate on its professional service on its behalf.
Here are a few testimonials from its clients:
7 reviewers between Google and AfricaBZ.com share these sentiments, giving the agency ratings of 4.6- and 5-stars respectively.
Travel Touch Pretoria
Following an extensive and award-winning career in the travel industry, Annie Sars started Travel Touch in 2016 in Constantia Park. Spanning a 14-year career and spreading into 7 continents, Travel Touch was established to accommodate the advancement of technological changes in the travel industry. Travel Touch implemented an adaptable system that allows travellers to book their travel with assurance and confidence. The agency ensures that its clients stay on top of any industry changes that may occur.
Travel Touch has expert travel co-coordinators who pride themselves in assisting clients with every one of their business or leisure travel needs at their place of convenience. The agency also provides travel insurance. Travel's Touch's express goals are:
• To deliver expert advice.
• To become the first choice for travel management.
• To be set apart by meeting travel demands.
• To build lasting relationships with its clients.
• To develop a character that speaks volumes of our commitment and integrity to all our clients.
The rating of 4.8-stars from 6 Google reviews and 5-stars from 2 Facebook reviews can be summarised by this comment:
"The Fouche family used Travel Touch for our first European trip between 29 September and 10 October 2022. The support we got from this agency was amazing from the visa application (we got it in 7 days) up to flights, trains and access to Euro Disney allowed us to focus on the holiday and not stress about travelling. The accommodation venues were exactly what we required within budget and well situated. We visited two countries using pre-booked train tickets and everything worked perfectly with the Travel Touch team always available for support
I will definitely recommend this agencyThank you, Annie, and the team, for all your support."
---
Mpassi Holdings
MPASSI Holdings quotes author and poet Lewis Carroll in its About Us section: "One of the deep secrets of life is that all that is really worth doing is what we do for others."
Founded in 2016 and a citizen of Hatfield, the agency is fully registered with the Department of Trade and Industry. MPASSI Holdings has two sub-divisions, MPASSI Translations and MPASSI Travel & Tours. The firm aims to provide travel and guide packages in South Africa, to customers travelling to and from South Africa. Their services include hotel and ticket reservations, car services, tour guides, Portuguese translations, Electronic Criminal Background Checks and many more.
The company also offers chauffeur/shuttle services that include:
• Personal VIP Chauffeurs
• Airport Transfers
• Private Tours
• Taxi Services
MPASSI Holdings has been commended by its clients for its professionalism and quality. With only a single 1-star reviewer that did not justify their rating, Google handed the consultancy a 4.8-stars from its reviewers.
Other ratings looked like this:
African Imprint Travel
This is how African Imprint Travel describes itself:
"What does exceptional business travel mean to us? This is what you can expect when you put your travel arrangements in our hands…"
Based in Magalieskruin, the company is a complete travel service for all travel-related necessities. They have Club Travel Group Membership with the International Air Transport Association (IATA), Association of South African Travel Agents (ASATA), and SATIB – Leading Insurance Brokers. African Imprint Travel is a Corporate Travel Specialist, assisting clients with dedicated consultants. They differentiate themselves by providing an extensive range of services, namely:
• Travel management reports
• Free incentive travel packages for individuals and groups
• Access to negotiated overseas rates
• An online booking tool for small corporates
• A web-based online booking tool
• Leisure travel services – domestic and international
• Travel gift vouchers, and
• 24/7 after-hours emergency service
African Print was complimented by its clients for its attentiveness and helpfulness on Google with a 4.7-stars. They also won praise from Facebook and AfricanAdvice.com with 5-stars from 2 voters on each platform.
APT Work and Travel
Although APT Work and Travel has both Facebook and Instagram pages, it is no longer posting as regularly to these platforms. It does not have a stand-alone website, but it seems to provide au pair placement as well as travel advisory services.
Destinations listed in their promotions include Zanzibar, Mauritius, Seychelles, and some South African locations. They also provide repatriation flights between Johannesburg, Lagos, and Uganda, and travel vouchers. The agency can be found in Rietfontein.
APT has been regarded highly across review sites. It received full marks from its 2 Google reviewers for its friendliness. Its 8 Facebook reviewers followed suit with 5-stars from them all. The rating from Local.Infobel.co.za also landed at 5-stars from 2 users. A lone reviewer from YelloSA.com checked the 5-star box while another from SA Yellow allocated 4-stars to the agency.
Conclusion
The City of Tshwane demonstrates that being a modest metropolis does not make it dull. It may not dominate headlines like other iconic cities and that may be a good thing. In our examination of Pretoria's travel agencies in this short post, we have discovered that some of the littlest known places may have a lot more to offer than we may realise.
The travel agencies in Pretoria expose us to a population that explores the world and does so with flair. Some of these agencies provide offerings that rival those of their international counterparts. Being smaller in nature, their services must be more personal, comprehensive, and competitively priced than others; and they do not fail at this. What we can conclude about these establishments is that they may not be conspicuous on the internet, and in the real world, but they serve their clients well.
---