How many of you know of the fun things to do in Tzaneen? While many of us have heard of this fertile garden town in Limpopo, most of us are missing out on what it has to offer.
This lush, tropical paradise with the nickname 'Land of Silver Mist' is blessed with short winters that are dry and cool, and long, enjoyable summers that are warm and cloudy. It is home to a wide range of fruit farms and, unbelievably, produces around 90% of our country's tomatoes.
It may be a great place for a farmer, but it is a place to experience for the holidaymaker, with many things to see and do. Most activities are within an easy 30 minute drive from the town centre.
Our List of Things to do in Tzaneen
Magoebaskloof Canopy Tour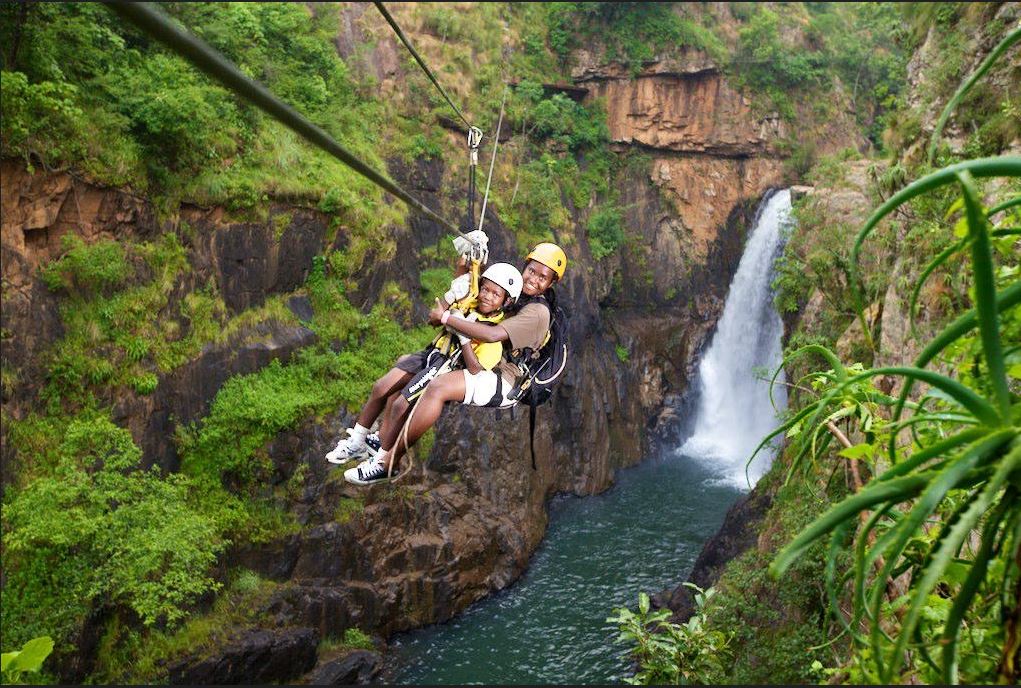 Feeling the need for a bit of a thrill while immersing yourself in nature? Consider this unforgettable canopy tour. After a 1km walk, you will reach your first slide in the gorge. These steel cable slides are spread between 13 platforms, with some of the slides up to 150 meters in length.
Each group is kept small to allow the 2 professional guides to give you full attention while ensuring that all the strict safety procedures are followed. They are also well versed in the fauna and flora of the region, so it makes for an educational experience.
This is one of the really fun things to do in Tzaneen. Give them a call to see when they are operating and to book ahead of time. It's advisable to take some warm clothing just in case. The weather within the Magoebaskloof can be a bit unpredictable at times.
---
Agatha Crocodile Ranch
Only 14 minutes South of Tzaneen is one of the best fun things to do in Tzaneen. On the Agatha Crocodile Ranch, a reptile experience awaits you. Their 1-hour tours are run daily from 9:00 until 3:30. While it will be interesting for adults, it will be a wow factor for the kids. You will learn all about their behaviour, history, breeding and ongoing conservation.
When last did you touch a baby crocodile? This is your opportunity for something new and exciting. Scared that the little guy will try and take a snap at you? Don't worry, Sam is in charge and he is well experienced at handling these ancient beasts.
You are taken on a guided tour of the breeding dam and other areas, including a feeding show where you may even have the opportunity to feed one of the crocodiles yourself!
On the ranch is an art gallery displaying some of the local artistic talents, and on your way out, pop into the curio shop. There is a wide variety of gift ideas and crocodile-themed items. Don't forget to purchase a souvenir there before you leave.
---
Hans Merensky Nature Reserve
The reserve was founded in 1953 and is open daily. It is a fantastic adventure for the outdoor and animal enthusiast. There is a wide variety of activities to choose from. The easy option is to drive through the reserve however there are different trails that you can walk, cycle or even ride your horse.
The Waterbuck trail is quite popular for day visitors. This well sign-posted, 11km walk will take you through the riverine forest and over dolerite ridges. If you are fortunate you might spot a sable antelope or a waterbuck among others.
For the birders, you will have the chance to spot several bird species, from raptors to the Brown-headed Parrot. There are some lovely viewpoints along the trails where you can take in the wonderful panorama and see animals. The area is well populated with zebra, wildebeest, warthog and antelope. You may be able to spot a hippo in one of the pools along the banks of the Letaba river.
Take the time to pop into the Mut Wa Vatsong museum to learn about the history and culture of the Tsonga tribes living there. Just an hour's drive West of Tzaneen, you will find the entrance to the reserve. It would be best to put ATKV Eiland Spa as your destination on Google Maps, as the entrance is right next door to the spa.
---
Velvet Monkey Foundation
Less than a half-hour drive from Tzaneen is the home of this non-profit sanctuary for the rehabilitation of these fascinating primates. In operation since 1993, they have provided sanctuary for unwanted, abused, injured and orphaned Vervets.
This well-run organisation has helped to educate people about these active monkeys. They have a highly regarded and very rewarding volunteering project if you are interested in spending 2 to 4 weeks or even longer at the sanctuary. This is a wonderful opportunity to work with and learn all about these creatures.
Their informative website is worth a look at to understand what they are all about before you visit for a tour. It is important to note that you have to contact the sanctuary ahead of time to book a tour. It is a unique experience. You will see how the monkeys are well cared for in large, natural enclosures. The knowledgeable guide will be able to answer all your questions.
---
Tzaneen Museum
If you have an interest in anthropology, then head through to this small yet jam-packed museum. It's easy to find on Agatha Street, across the way from the municipal buildings. The curator, Mr. Jurgen Witt, has been kind enough to make his extensive, private collection available for the public to see.
Open since 1995, the building contains a large number of ethnological artefacts found around the surrounding area. Among the collection, you will be able to see sacred drums, weapons, and beadwork. The masks of the Tsonga and Pedi people are worth a closer look, and there is an interesting display of pottery going back nearly 2,000 years.
Students of African art and history will find this to be a very valuable experience. Some exhibits, such as the royal drum used during the reign of the great-grandmother of the Rain Queen Modjadji, are a must-see.
There are also works by local artists on view, and the exhibition is changed from time to time to keep things fresh. Mr Witt keeps the museum open on weekdays and Saturday mornings. You don't have to pay an entrance fee, but please consider a donation to keep this internationally well-known treasure trove operating.
---
Debengeni waterfall
Not just a single waterfall. It is a series of waterfalls going back hundreds of meters upriver in the forest. The main waterfall is quite impressive, cascading down the large rock face into a treat of a pool which you can swim in. Near the edge of the pool are tables and braai facilities.
The turn-off to the falls can be missed when heading East on the R71. When you see the entrance gate to the Selati De Hoek Sawmill on the right, take the dirt road to the left immediately after it. The almost 4km long road is maintained but can be quite rough, so vehicles that are low to the ground are best to avoid it.
This is a highly recommended experience if you want to take in the sounds of nature and the constant splash of the falling water. Take your picnic basket or your braai grid and turn it into a special day for the family. There is an entrance fee payable to the guard.
---
Mhangela Animal Touch Farm
You would be mistaken if you thought this venue was only for children. This is the place for the child within all of us. While the parents can enjoy a delicious tea time with cakes and desserts or explore the curio shop, the youngsters can have the time of their lives.
Children are able to feed and touch the animals, from goats and ducks to rabbits and a lot more. The animals are well managed and this makes for a safe way for children to be exposed to and learn about them. The supervised pony rides are guaranteed to be one of the highlights of the day.
To make it a really special birthday for your child, consider the children's party service. You have a choice of several party themes and there is a jumping castle and self-drive toys on the list of activities. You can choose a birthday cake for the day and kiddies' gift boxes are available.
---
Magoebaskloof Farmstall & Cafe
Nestled in the Magoebaskloof valley is this enormously popular venue. The number of people who have vowed to return is a testament to the enjoyable experience that this farm stall brings. Put this on the shortlist of fun things to do in Tzaneen.
The owners, Angie and Harry have worked hard to make this as sustainable and eco-friendly as possible. Most of the products are sourced from local suppliers and farms so the range varies from season to season. The shop is stocked with locally made gifts, clothing, jewellery and homemade soaps.
Take a moment to look behind the cafe at the delightful Busy Lizzie's Petals nursery. There is a large variety of local flowers and plants. Even if you are not in the buying mood it is still wonderful to walk through.
After you have taken it all in, settle down for something special to eat. All foods are prepared with all due care and attention and are delicious. The backdrop of lush greenery and trees is a wonderful setting. Are your taste buds still looking for something different? Try the delightful flavours of the handmade ice cream.
---
Earth Spa
There are times when you and your partner need a romantic weekend getaway and a break from the rat race. Here you can unwind and refresh your soul.
Located at the Tzaneen Country Lodge, a short 20-minute drive out from the town centre, you will find this award-winning spa. The fully trained and qualified therapists will ensure that you are given the best treatment from the various packages on offer. They do have a wide range of specials and value-for-money offers.
To help you in your journey to being refreshed and de-stressed, enjoy the use of the fully equipped gym and then relax in the outdoor steam room or the spa pool.
And that wraps up our list of things to do in Tzaneen. Did we miss any good ones?