If you are looking for hot air balloon rides in Hartbeespoort, look no further.
Floating effortlessly above the picturesque landscape of Hartbeespoort, a hot air balloon ride offers a unique and enchanting perspective of this beautiful South African region. With its stunning views, tranquil waters, and diverse wildlife, Hartbeespoort is the perfect destination for an unforgettable hot air balloon adventure. The hartbeespoort area borders Pretoria and Johannesburg so if you are in Gauteng and looking for hot air balloon rides, the list below has you covered.
In this article, we will explore the top hot air balloon rides in Hartbeespoort, allowing you to embark on a journey that combines both excitement and serenity.
List of Hot Air Balloon Rides in Hartbeespoort
Bill Harrop's "Original" Balloon Safaris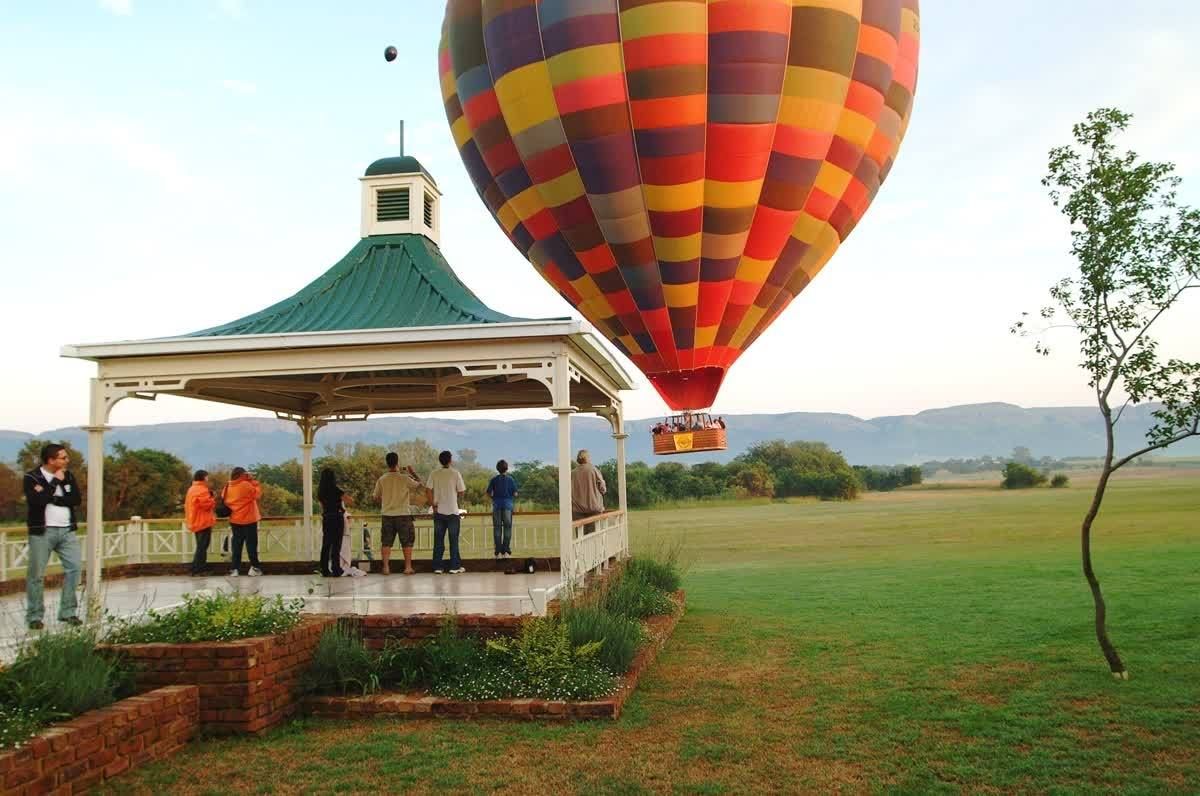 Bill Harrop's "Original" Balloon Safaris is a pioneer in hot air ballooning in South Africa, and it has been offering breathtaking rides over the Hartbeespoort Dam area for decades. This reputable company provides a magical experience, complete with knowledgeable pilots and a strong focus on safety.
Your journey begins with an early morning start, just as the sun peeks over the horizon. As the balloon gently ascends, you'll witness the serene beauty of the Hartbeespoort region unfold beneath you. The expanse of the dam, the lush Magaliesberg Mountains, and the surrounding wildlife reserves come to life in the soft morning light.
The Bill Harrop balloon ride is an experience that doesn't just end in the air. Upon landing, you will be treated to a champagne breakfast as well delectable food for a complete experience.
The flight itself is about an hour long. Once your flight is down, you don't have to leave. You can explore the sprawling property in hekpoort or walk along the river taking in the sights.
One of the unique aspects of Bill Harrop's hot air balloon rides is the opportunity for passengers to actively participate in the experience. You can help inflate and deflate the balloon, adding an interactive element to your adventure. Post-flight, indulge in a sumptuous champagne breakfast at the launch site, where you can swap stories and savor the moment with your fellow adventurers.
---
AirVentures Hot Air Ballooning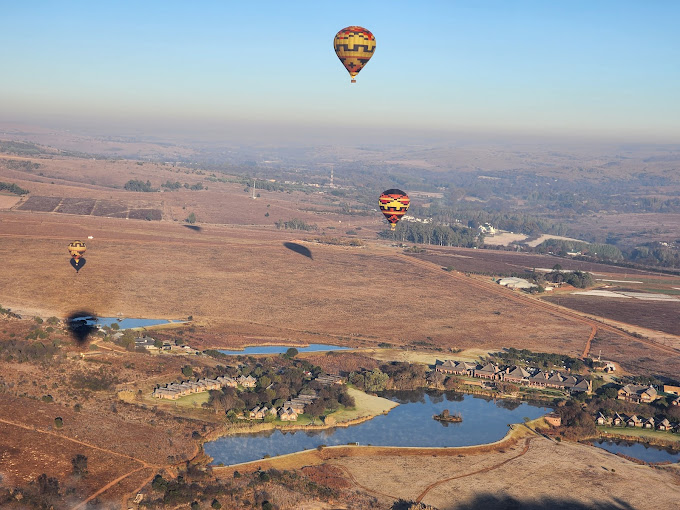 AirVentures Hot Air Ballooning is another reputable company that offers thrilling hot air balloon rides over the Hartbeespoort Dam area. Their flights typically take off in the early hours of the morning, allowing you to witness the sun rising over the Magaliesberg Mountains.
The experienced pilots at AirVentures ensure a safe and enjoyable journey. As you soar above the dam, keep your eyes peeled for the diverse wildlife that calls this region home, including waterfowl, antelope, and even the occasional crocodile. The landscape's changing colors and textures make for an unforgettable visual experience.
After your gentle descent back to Earth, you'll be treated to a delectable breakfast at the popular French Toast Coffee Café. This delightful post-flight meal is the perfect way to conclude your hot air balloon adventure and savor the memories you've created.
Air to Air Africa Balloon Safaris
Air to Air Africa Balloon Safaris is another outstanding choice for hot air balloon rides in Hartbeespoort. This family-run company has been offering balloon flights in the area for many years and is known for its personalized service and commitment to safety. Their flights can accommodate small to large groups, and we can also provide exclusive flights tailored to your requirements.
As you ascend into the sky, you'll be captivated by the incredible views of the dam, the surrounding mountains, and the lush landscape below. The peace and quiet of the balloon ride are contrasted by the occasional blast of the burner, adding an element of excitement to the experience.
Upon landing, you'll be treated to a traditional South African champagne breakfast, complete with sparkling wine and hearty fare. It's the perfect way to celebrate your flight and bond with your fellow passengers over shared stories and laughter.
Sun Fun Africa Safaris – Hot Air Balloon Rides
For those seeking a more reasonably priced experience, Sun Fun Africa provides just that. If you just want to experience a hot air balloon ride without all the extra accoutrements, you can embark on a group flight on Sun Fun's balloon ride which costs R2600 per person, with children between 7 and 12 paying a price of R1400 per person.
Your adventure begins with a hot air balloon flight over the Hekpoort area, where you'll take in the breathtaking vistas and the tranquility of the early morning.
This package caters to both thrill-seekers and nature enthusiasts who want to get the experience without breaking the back as much, making it a fantastic choice for those who want to experience  the area's natural beauty and excitement.
Hot Air Balloon Rides Hartbeespoort Prices
Hot air balloon rides in Hartbeespoort vary in price but you can expect to pay between R2600 and R4200.
The most affordable balloon ride is offered by Sun Fun, who charge a price of R2600 per person for a group flight.
Bill Harrop's is the most popular operator and the most highly recommended. Their price is R4180 for per passenger. It is worth mentioning that their package include much more than just the flight, as it is accompanied by a champagne breakfast and access to their estate even after your flight has endedn.
Before You Go
Before embarking on a hot air balloon ride, there are several important things to know and consider to ensure a safe and enjoyable experience. Here's a checklist of things you should keep in mind:
Health and Physical Requirements:

Hot air balloon rides are generally safe for most people, but they do require some physical activity. Ensure you are in reasonably good health and capable of standing for the duration of the flight.

Weight Restrictions:

Balloons have weight limits, and you may be asked to provide your weight during booking. This is important for safety and to maintain proper weight distribution in the basket.

Age Restrictions:

There may be age restrictions for passengers, often for safety reasons. Check with the balloon operator regarding their policy on children and older adults.

Weather Conditions:

Balloon flights are highly weather-dependent. They are typically scheduled in the early morning or late afternoon when the winds are calm. Be prepared for your flight to be rescheduled or canceled due to adverse weather conditions.

Dress Appropriately:

Wear comfortable, layered clothing appropriate for the season. Balloons can fly at high altitudes where it can be cooler, so bring a jacket or sweater. Closed-toe shoes are recommended.

Camera and Accessories:

Don't forget your camera or smartphone to capture the stunning views. Ensure your camera is fully charged and has enough memory. Consider bringing a neck strap to keep your camera secure during the flight.

Listen to Your Pilot:

Pay close attention to the safety briefing and instructions given by your pilot before the flight. Balloon operators prioritize safety, and it's crucial to follow their guidance.

Weight and Balance:

Be aware that the balloon basket may have multiple compartments with designated passenger slots. Respect weight and balance guidelines provided by the pilot for safety

Motion Sickness:

Hot air balloons are generally stable and don't cause motion sickness. However, if you're prone to motion sickness, it's a good idea to take appropriate medication or consult a doctor before the flight.
Conclusion
Hartbeespoort, with its stunning landscapes and tranquil waters, provides the perfect backdrop for an unforgettable hot air balloon ride. Whether you choose to embark on a classic sunrise journey with Bill Harrop's "Original" Balloon Safaris or experience the magic of AirVentures Hot Air Ballooning, each of these hot air balloon experiences offers a unique perspective of this South African gem, allowing you to connect with nature, savor breathtaking views, and embrace the tranquility of the skies above Hartbeespoort. So, whether you're seeking adventure, romance, or simply a moment of serenity, a hot air balloon ride in Hartbeespoort promises an experience like no other.