Dullstroom, also known as Emnotweni (The place of prosperity) is a small town in Mpumalanga, known as the highest town/village in South Africa, standing at 2100m above sea level. Nestled between Gauteng and the Kruger National Park, Dullstroom is the perfect retreat town.  Not only has it in recent years become a popular training base for top local and international athletes, during the summer months, because of the altitude, but it is also one of the most serene and charming places in South Africa.
 Dullstroom has a particularly strong and uniquely South African history with lovely little attractions about it, making it one of the most fascinating places to visit. You can enjoy a mix of 19th and 20th-century architecture as well as a beautiful blend of South African cultures from historical landmarks to museums and more.
As if Dullstroom couldn't get any better it is also one of the best fly-fishing spots in the entire country and is renowned for its incredible amazing horse-riding trails, challenging as well as calm and scenic hiking trails, and magnificent waterfalls. As it boasts a relatively cool and temperate climate, Dullstroom is the only place in South Africa where you will find beech and elm trees.
What to consider when you are looking for Accommodation in Dullstroom 
Location
Dullstroom is a unique small town with zoned in niches. There are the standard things to consider when looking for a place to stay, also depending on the purpose of your visit to Dullstroom, you will need to really zone in on your travel plans.
First and foremost, the most important thing about choosing a place in Dullstroom is the location, if it is training you're after, choose a place that is close to the facilities you need, but also quiet enough to get in plenty of rest, you might also want to consider staying in a hotel, on a reserve, a lodge or guesthouse where the host or at least the staff know about the sport you are training for and will assist you in helping make your stay a pleasant one.
If you're looking for a business or holiday hotel, then perhaps consider something closer to town or at least on a public transport travel route, always check for the places you'll feel the safest and, remember you are allowed to call ahead to ask questions about the hotel and their surrounding areas.
Price
Dullstroom has one of the largest ranging price ranges in its little town. So, make sure that you are a thousand percent clear or the accommodation you book. Price goes hand in hand with your perfect location, but the good news in Dullstroom is, is that a lot of places offer reasonable room rates the closer you are to certain amenities and depending on how long you want to stay. There are a few hotels, where they will offer discounts on their sites, so routinely check-in.
Amenities and Facilities
Dullstroom is a place that certainly rolls out the red carpet for you when it comes to amenities and facilities! As it is a temperate climate, you'll find that most places have installed fireplaces to keep you warm and snuggly on those cold days. Most places also provide you with more than just the standard amenities, so be sure to look out for those sweet surprises when booking your accommodation. However, just because some of the amenities may look satisfactory don't compromise on the ones you need for the location or the price. Like having a plug socket by the bedside so you can charge your phone easily a suitable coffee/tea station, clean bedding, pillows with various comfort levels, and easy access to the main lobby, and indoor activities, like a free gym (classes) childcare services, restaurants. Room.
Room Type
Well, when it comes to booking rooms, you'll find that in Dullstroom, there is more likely a chance at booking a 4-sleeper unit, so the rooms and living spaces are really rather homey already, however, if you do only need to be booked into a hotel or guestroom then size matters!  The size and shape of a room can seriously affect your travel plans. No one wants to get stuck in a smaller room for a longer stay, likewise, you don't want to pay for a massive suite for a 2-day stop. So calling ahead and maybe reading a few reviews online can go a long way when it comes to discovering room type and size.  
Dullstroom may seem like a place not worth going to, but once you get there!! Wow, what an experience awaits. From bars to museums Dullstroom is always surprising you. Not only will you get to enjoy the quiet scenic nature of the place, but you'll also get to challenge your fitness levels on challenging scenic bikes and running trails. Or take up a new hobby fly fishing. We've rounded up some of the best and most luxurious accommodations in Hartbeespoort for you.
With all that in mind, here is a list of Dullstroom accommodations, for you.
Ps. Dullstroom is host to the Ducktober Festival, the highest beer festival in Southern Africa because, well, it's hosted 2100m above sea level!
---
Our list of best Dullstroom Accommodation
The Highlander Hotel
The Highlander Hotel is a welcoming place for all, with its restful and peaceful ambiance, it is a place where, corporate guests can enjoy some homely comforts while away from home for work, leisure guests can relax and enjoy seeing the sights of Dullstroom, and where world-renowned international and local athletes can come to train and recover.
The Highlander Hotel is a place where elegance meets class and recuperation. With many personal services available to you and attention to detail, it's fast becoming a preferred hotel for many travelers, athletes, or holiday trekkers.
Rooms
The Highlander Hotel is perfect for conferences, meetings, and romantic getaways. No matter what room or suite you choose, you'll be welcomed into a warm, beautifully decorated, and serene setting.
Each room has been tailor-made and equipped with a fireplace, satellite television, an En-Suite Bathroom, with Under Tile Heating, a Fridge, Hair Dryer, Heated Towel Rail, Housekeeping, and a Tea & Coffee Station.
A full English breakfast is served every morning Highlander's luxuriously appointed rooms and suites feature down duvet covers and crisp cotton linens.
Location
This 4-star Dullstroom countryside retreat offers a whisky bar and gourmet restaurant. Verloren Valei Nature Reserve is a 10 km drive.
Amenities and facilities
Spend your time at the Highlander Hotel, fishing at the onsite dry fly-fishing (barbless hooks only) trophy pond. Book yourself much-needed spa treatments at the Highlander Hotel Spa.  After an evening of fine dining head over to the bar where you have access to, over 200 single malt whiskeys to choose from.
The Highlander Hotel in Dullstroom offers a conference venue that can accommodate up to 60 delegates comfortably. This room is situated away from the hotel to ensure the privacy of the delegates and hotel guests. 
---
Highland Gate Golf Retreat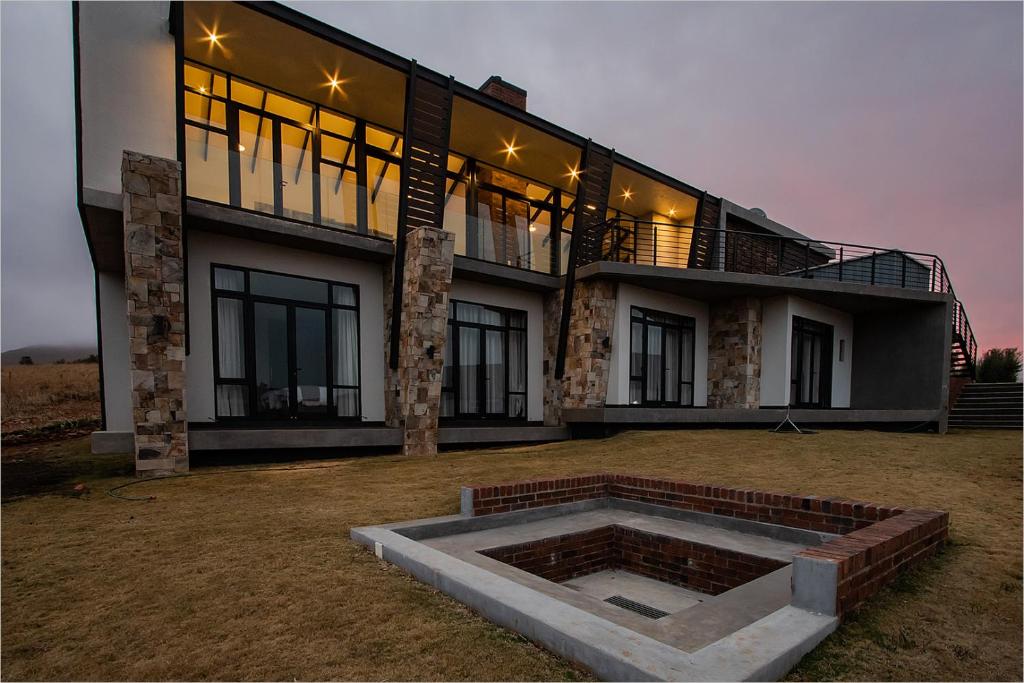 If you're a golf enthusiast or professional golfer and you need some time to work on your swing, then situated in the charming Highland Gate Golf Estate, with magnificent views overlooking the dam and hills, you will find Highland Gate Golf Retreat. The perfect place for you and your buddies or coaches to go and get some much-needed rest between rounds.
Rooms
A modern industrial-designed luxury house boasts a naturally light open plan lounge, dining room, built-in braai & kitchen area, displays some modern finished and comfortable amenities.  
There are 4 bedrooms available, each one fitted with 2x ¾ beds, and come standard with an en suite with showers. The beds are fitted with only the best and most comfortable Egyptian cotton bedding.
Location
Highland Gate Golf Retreat is situated in the scenic Highland Gate Golf Estate, with magnificent views overlooking the dam and hills. It is 18km from the Dullstroom Railway Station and around 16km from the Bird of Prey & Rehabilitation Centre.
Amenities and facilities
Highland Gate is the perfect weekend retreat for outdoor enthusiasts. The focus is not only on the golf course but also on the amount of fun outdoor activities the estate offers, including hiking trails, fly fishing, mountain biking, picnicking, swimming, and bird watching.
---
Dunkeld Country & Equestrian Estate
When you head over to Dullstroom, you'll notice the one thing about the place is the instant step into country life. At the Dunkeld Estate, you'll get to hold onto that feeling of completely breaking away from the loud and busy polluted city life and sink into the lap of English-side country luxury.
Breath-taking views of the Blue Gum Forest, pristine fly-fishing lakes, manicured gardens, and the sprawling mountain range.
Rooms
There are a variety of accommodation options at the Dunkeld Country & Equestrian Estate. The central lodge has 13 hotel rooms, self-catering accommodation, 4 private self-contained family suites, and 20 self-contained one-bedroom chalets.
All rooms and suites are equipped with a flat-screen satellite TV, tea-and-coffee-making facilities, and a private bathroom. Some rooms offer a balcony or patio.
Location
Dunkeld Country Estate is a beautiful trout-and-game resort and is only 2.5 Hours from Johannesburg. And can be found on the famous Panorama Route, which is accessible to many surrounding landscapes, including the Pilgrims Rest.
Amenities and facilities
Without venturing too far out, guests can enjoy, a delicious buffet breakfast, a famous spa massage, to work out all the stressful knots, take a swim in the indoor pool, or cuddle up and enjoy a glass of wine, while the kids play at the and a children's playground.
---
The Browns' Luxury Guest Suites
A guest suite with elegant and premium amenities situated within walking distance from various restaurants, shopping centers, bars, and other facilities around Dullstroom. However, it boasts a serene setting and is perfect for business travelers, looking for after-work rest and restoration. The atmosphere is perfectly complimented by the excellent service and comfortable bedding that ensures you'll have a great night's sleep. 
Rooms
There are four exclusive suites available, each furnished and decorated to make your stay the most comfortable. Each unit has underfloor heating, pure cotton linen, A LED TV with a variety of satellite channels, a beverage station, and Wi-Fi.
Location
The Brown's is conveniently located only a short distance from the main street of Dullstroom, where you can enjoy shopping and a variety of restaurants and activities. It is also a short distance drive away from many of the hiking trails and more sporting activities a little further from Dullstroom town.
Amenities and facilities
When you stay at Brown's Guest Suites be sure to spend time in the beautiful rose garden and let the sweet smell of the roses excite your senses, as you sip your cup of coffee or enjoy a nightcap while you relax under the stars. For families traveling with kids, there is an excellent playground available on-site that will keep the little ones busy for hours. 
---
Walkersons Hotel & Spa
Walkersons is a classically elegant Hotel and Spa, designed with the holidaymaker in mind. It offers the perfect seclusion for those seeking to just spend a quiet weekend or holiday away from the mounting terrors of the city. Its stylish, old-world country classic décor and finishes add to the ambiance of relaxation.
Rooms
There are 27 suites, including a honeymoon suite and 5 fully furnished, self-catering cottages. Boasting classic and traditional elegance, each suite is suitably and equipped with an open fireplace, a lounge area, a flat-screen satellite TV, and an outdoor patio overlooking the lake.
Location
You'll find this classical gem, ideally located about 2 hours from the OR Tambo International Airport, along the route to the famous Kruger National Park.
Amenities and facilities
You'll find many activities here, go on a lovely easy walk or take on a more challenging hike or bike ride amongst the blesbok, zebra, and duiker. There are mountain bikes available with paths and recommended routes to follow. Try your hand at fly-fishing in Walkersons' famous trout dams. Indulge in a little bit of heaven at the Walkersons Spa.
---
African Leaves Trout Lodge
Imagine pristine countryside, excellent stream, and dam flyfishing,g and hiking to your very own picnic spot at the foot of a Highveld waterfall.
Rooms
At African Leaves Trout Lodge, you'll have two options to choose from when it comes to accommodation, the Oak house, which sleeps 8 in a four-bedroom four bathroom house. That's equipped with an industrial kitchen for functions, a lounge (with TV), a dining room, a bar, a wine cellar, and a deck.
Or the Silo House, a 6 sleeper, that has three en-suite bedrooms, one with a refreshing outside shower. Fully equipped with a fully furnished kitchen with fridge/ freezer, stove, and microwave, a spacious dining room, and a cozy living room with an indoor bar area.
Location
African Leaves is a trout lodge located 26 kilometers outside Dullstroom, on a private trout farm in the 750-ha Zuikerboschhoek Conservancy.
Amenities and facilities
Grab your picnic basket and hike down to the foot of the highveld waterfalls to enjoy a spot of family fun in and around nature, or get your fly-fishing gear ready and spend hours just enjoying the soft rustling of the water and gentle breeze of your face.
---
Sleep@84

With modern finishes and spacious, beautifully decorated, and restful units, Sleep@84 is one of the best places to be for anyone who is an adventure seeker or holiday explorer.
Rooms
In all the units at sleep@84, you'll find a desk area, a flat-screen TV, a private bathroom, pristine bed linen, and towels. Each unit sleeps 2 people and has a small kitchenette with a microwave, kettle, and bar fridge as well as an en-suite bathroom with a shower.  
Location
Sleep@84 is centered on the main road of Dullstroom, within walking distance from all the restaurants and shops. The gate and all the units have electronic safes to make check-in for the guests easy and convenient 1.2 km from Dullstroom.
Amenities and facilities
TV with Satellite Channels Kitchenette Entertainment Area Braai Facilities Onsite Parking
---
109 Upwood House
Live in the lap of luxury, at 109 Upwood Guesthouse. Enjoy time off at this prestige house in the Walkersons Estate on the outskirts of Dullstroom. With peace and tranquillity, being the top priority of the managers and staff, you can rest assured that your stay will be a brilliant one.
All four homes are serviced daily and Beaton, our butler will be there to assist you or even cook a delicious meal.
Rooms
The 4 bedrooms all have en-suites and come complete with luxury linen, a desk, a dresser, and a mirror. While the rest of the house has, a TV lounge fireplace and a flat-screen TV with a full DSTV bouquet. The kitchen is equipped with a microwave, free-standing gas stove, and dishwasher in the scullery. The double garage caters to two cars and the laundry.
Location
This luxury, fully equipped, and serviced house on the prestigious Walkersons Security Estate is the ideal holiday away from the city hustle and bustle. It is just two and a half hours from Johannesburg and Pretoria, so you don't need to spend hours on the road.
Amenities and facilities
Enjoy going down to the trout dams, grab a picnic basket and enjoy the day with your family, or head into and around Dullstroom for some shopping and sightseeing.
---
Amberley Mountain Reserve
Overlooking the wonderful Steenkampsberg and Kruisfontein Valley, Amberley Mountain Reserve is nestled amongst nature, you'll be embraced by the sweet sights and sounds of the flora and fauna surrounding you as you take time to completely zone out of city life for a few days.
Rooms
Amberly Mountain Reserve is a self-catering house that can accommodate 12 guests in 6 bedrooms. Enjoy the exclusivity as you unwind in this wonderfully decorated house equipped with an entertainment area, lounge with a TV and fireplace, dining room, bar, and large kitchen as well.
Location
You'll be completely secluded in nature as Amberley Mountain Reserve can be found 7km outside of Dullstroom, but easily accessible when you want to venture out for sightseeing or other activities.
Amenities and facilities
Have fun exploring the estate, where you'll be able to spot a full variety of wild game, swim in the pool, go fishing in one of the six dams on the property, or simply take a long leisure walk around the area, taking in the sighs and serene sounds. A terrace is available on site and cycling can be enjoyed within proximity of the lodge.
---
Spring Valley Retreat
If you want to be out and out in nature, enjoying the seclusion of it all, then book yourself in at the Spring Valley Retreat. The perfect place to go fly fishing or hiking for hours on end.
Rooms
There are 3 luxury self-catering options, the first is Spring Valley Retreat and the second is the Serengeti Log Cabin.
Spring Valley Retreat is a self-catering unit that sleeps 10. You'll find a cozy lounge, kitchen, dining room, deck area, and 5 en-suite bedrooms.
Serengeti log cabin is an exclusive self-catering accommodation. It has 2 deluxe en-suite rooms with two three-quarter beds and an upstairs loft space with two single beds. There is a lovely kitchen, lounge with fireplace, dining, and braai area.
Location
Situated on the Kruisfontein Road just 4km outside of Dullstroom.
Amenities and facilities
The farm boasts three wonderful trout fishing lakes, as well as a chance to live amongst wild game and enjoy the wide range of rare bird species such as Secretary birds and the Blue Crane, that inhabit this area.
Enjoy your next hike or race, or beer fest in the highest valley in South Africa!!