This Mossel Bay guide will detail all you need to know for your trip to the intriguing harbour town, situated 400km east of Cape Town.
Is Mossel Bay in Cape Town?
Travellers descending to Mossel Bay, especially those coming from other parts of the country, might loosely bundle Mossel Bay in with Cape Town, but Mossel Bay is a completely separate experience from that which the port city of Cape Town is largely known for. Mossel Bay's population of just-under 100,000, for instance, automatically births its association with a major town, but a history-filled major town with an abundance of the character and charm often associated more with a small town.
Adventure Hotspot of the Famous Garden Route
With its prime location, halfway between Cape Town and another major city, Gqeberha (formerly Port Elizabeth), Mossel Bay was destined to be the adventure capital of the Garden Route that it is.
Gateway to the Garden Route
Mossel Bay is the official starting point of the famously beautiful Garden Route, with its official termination point being Storms River. Unofficially, the Garden Route is contested to incorporate towns such as Albertinia, Stilbaai and Witsand, but either way, Mossel Bay is the uncontested adventure capital of this collection of beautiful coastline stretches. From a visual point of view, Mossel Bay's contribution to the Garden Route is perhaps best exemplified by its pristine, blue-flag status beaches, which act as a window to a place rich in history and a place whose natural course of development was destined to make it a prime travel destination.
Established in 1848, Mossel Bay is pretty much universally known for being a tourism region of major importance. Iconic highlights include a unique, boot-shaped post box, a premium selection of historical, cultural and natural attractions, the Garden Route Casino, and everything that comes with a 60km stretch of naturally aureate beaches!
History of Mossel Bay
Mossel Bay might a be best known as the site of the first landing of Europeans in South Africa, however, Bartolomeu Dias's 1488 arrival, along with his crew, succeeds a human history that has been traced back to over 164,000 years. This, nevertheless, explains the significance of the Dias Museum Complex, which it must be said isn't located at the exact point where the Portuguese explorer landed and was chased off the land by stone-slinging locals.
So the extensive history of what is present-day Mossel Bay has been interesting, to say the very least… From way back to the time during which archaeological deposits provide evidence of human existence.
1497 added another Portuguese dimension to the history of present-day Mossel Bay, with explorer, Vasco da Gama, known to have completed successful trade with the local Khoi people, bartering for cattle.
Mossel Bay had its official proclamation as a town in 1848 and going on to become a Municipality in 1852. The racial groups' makeup of the iconic town, in many respects, represents a balanced mix of people identifying as South Africans… Especially for this part of the country; interchangeably referred to as the South Coast (The Garden Route).
Mosselbaai?
Mosselbaai refers to the exact same place as that which is known as Mossel Bay. It's a simple matter of language, with Afrikaans being the dominantly spoken first language in the region. Although, the name Mosselbaai has a history going back to 16th and 17th Century Dutch shipping merchants.
You will have no problems, at all, communicating in English…
The Legendary Post-Office Tree
One of the biggest tourist attractions of Mossel Bay is its boot-shaped post box, put up under the famed Post Office Tree. Letters posted from there bear a stamp commemorating the legendary history of the site.
That history goes back to 1501, when Pedro d'Ataide, yet another Portuguese navigator, lost his fleet in a storm and had to seek shelter in Mossel Bay. The account of the disaster was left by him in an old shoe, hung up on a milkwood tree… And so Southern Africa's first Post Office was established in this way.
How the Unique History of Mossel Bay Shaped Its Rich Culture
The history of Mossel Bay is synonymous with a range of maritime activities. Its lighthouse was the first to be lit, in 1864, so the history shaping the modern-culture of Mossel Bay goes back a long, long way.
This War Memorial at Mossel Bay Point, near the St. Blaize Lighthouse, was erected in 1924 in commemoration of Mossel Bay residents who had lost their lives in combat, in World War I. In 1954 more names were added, updated with residents who lost their lives in the World War II.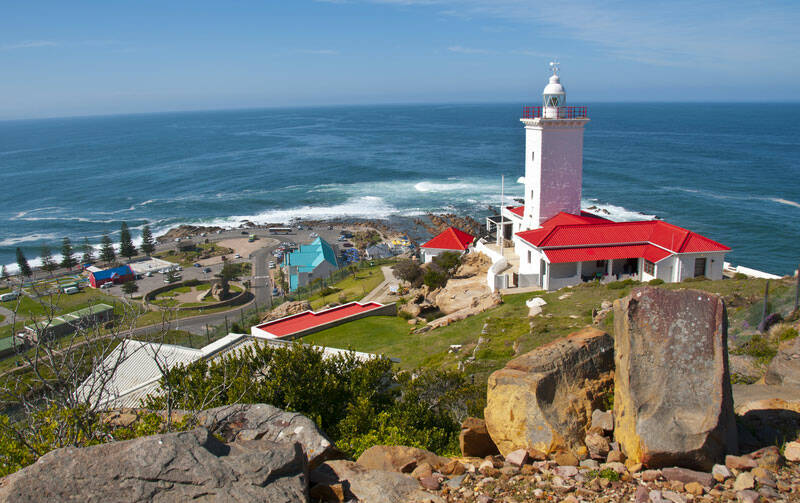 During the early years of the 20th Century, farming and fishing made for the main activities of the area. This was mirrored by the growth of the port.
Offshore natural gas fields were discovered in 1969, and later FA gas field was discovered in the Bredasdorp Basin in 1980, as well as off the Southern Cape coast. 1983 saw the discovery of the nearby EM field, which led to the1987 commissioning of Mossgas gas-to-liquids refinery. These discoveries played a major role in shaping the growth and development of Mossel Bay as a town.
This led to the evolution of the nature of the port, with its major business now coming from serving supply ships for the offshore platforms of PetroSA (renamed from Mossgas).
The refinery's development led to a marked increase in Mossel Bay's property development, with the total number of domestic properties growing rapidly so as to accommodate the exploding work force active during the construction period.
Post-commissioning, many of the people who had come to work on the project remained in the town, going on to find work in tourism and commerce or light industry, as it would appear from the changing economy of Mossel Bay.
The Port and the Refinery have always worked in tandem with the growth of tourism and general commerce, to the point that the town now boasts a balanced and vibrant economy, even though they have indeed had a major influence on the development of Mossel Bay. In particular, tourism has influenced much of the town's growth since the significant historical point of 1994. The town has however been a popular resort-destination for local South Africans since as early as back in the late 1800s.
Mossel Bay Climate and the Best Time to Visit
Mossel Bay can be classified as a semi-arid, ocean-moderated climate.
This means that it is a mild climate throughout the year, partly due to the town being situated in the area that makes for the meeting point of the Western Cape's winter rainfall and all-year rainfall regions. The Indian Ocean's Agulhas Current, to Mossel Bay's south, influences its weather, along with the presence of the Outeniqua Mountains to the town's north. Mossel Bay welcomes 80% of its rainfall at night-time.
Frost is a rare occurrence, almost completely absent in fact, while snow has never been recorded on the town's coastal platform. However, occasionally, snow will fall on the mountain peaks, on rare occasions visible from the town. Prevalent winter winds are westerly (May through August) and easterly in the summer (September to April). The winds rarely reach storm- or gale-force strength though, while the annual sunshine average is 320 days.
Pleasantly hit by the Indian Ocean's warm waters, Mossel Bay has sandy beaches on offer, which stretch into the horizon, so too whale watching (whale-watching season is June to mid-November). Also, water-sports, and outdoor adventures… Mossel Bay is also a travelling visitors' paradise for any discerning shopper on the hunt for locally crafted art and souvenirs with a strong maritime theme. It's also a hub for some great entertainment of many varieties, as well as some exquisite Garden Route dining options.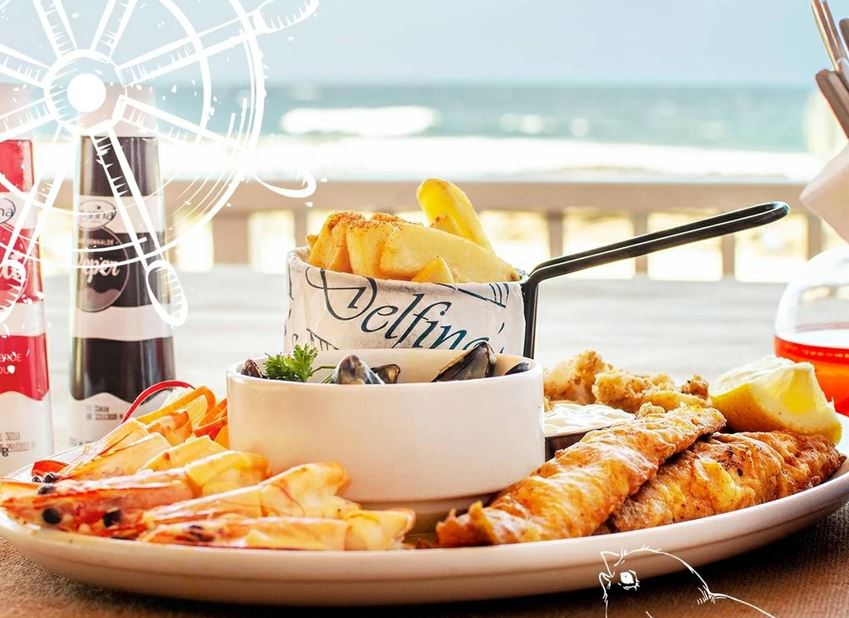 Mossel Bay boasts a strong tourism economy, with the summer holiday season making for its busiest time of the year (from about mid-December to mid-January).
Getting Into and Around Mossel Bay
Road
Since South Africa is indeed best explored by car — you can arrange to rent a vehicle from your initial port of entry — you're most likely to enter Mossel Bay by road. Mossel Bay is accessible by the N2 national highway, South Africa's main coastal road running from Cape Town (Western Cape Province) to Durban (KwaZulu-Natal Province).
The use of this route, puts Mossel Bay at the exact midpoint between Cape Town and the Eastern Cape Province's capital of Gqeberha, each of which are 400km away.
The Municipality of Mossel Bay diligently maintains just under 418km of concreted and paved roads, along with 24km of gravel roads to make for the added dynamic of a sense of adventure. Mossel Bay has been a stopover point used by all major road transport operators licensed for operation in this region, so getting in and around by road is no problem at all. However, it is strongly advised to explore it with the freedom of your own hired car.
Sea
Lying at 34.180047°S and 22.146034°E, the Port of Mossel Bay is the smallest of South Africa's commercial harbours. As a result, it mostly services the oil industry, but also caters to a small fishing fleet.
Bunkering takes place on the jetty and at three quays. Only one of the quays can accommodate vessels (maximum 130m in length). So experienced sailors can enter by sea, but you would have likely cleared customs and immigration at another, major port by the time you hit Mossel Bay.
As far as getting around goes, you will likely want to take a boat to the seal island situated near the harbour, and visit the lighthouse and Dias exhibit. A visit to the market at Hartenbos beach is a must as well.
1 Market Street — The Bartholomeu Dias Museum Complex museum offers access to expansive waterfront gardens, featuring exhibits including the reconstruction of the very ship itself. Jump on board to complete the experience (for an extra fee). Make sure to allow for several hours so that you can visit the entire site.
Experience Mossel Bay like a Local
Buy some good wine and go and have a seat at the cliffs, located in the southern part of the town, while you enjoy the views of the ocean. If it's your lucky day, you can perhaps spot whales right from the headland.
Walk
Simply walk along one of this world's most beautiful beaches, albeit it gets packed at the height of the holiday season, but is empty in the very pleasant 22-degree winter.
You can very easily walk around the city centre, however, taking a car is favourable, especially so that you can access some of the outside destinations or restaurants.
Mossel Bay Accommodation
Accommodation in Mossel Bay is diverse, ranging from upmarket hotels, all the way to comfortable B&B's, self-catering apartments and luxury homes. Rest assured though, that all of these come with fabulous views, ratifying this as an ideal overnight destination on the Garden Route. There are plenty of options in accommodation, but if be sure to book in advance, especially if you plan to join the peak-season crowd.
Here is just a tiny sprinkling of options in quintessential Mossel Bay accommodation options, with self-catering units being the most popular as guests want to get as much of the uniquely local experience as they can…
No. 4 Duke Street
No. 4 Duke Street is a Mossel Bay accommodation option for self-catering, best suited specifically for tourists who are visiting the Garden Route region. No. 4 Duke Street boasts three self-catering suites as well as holiday apartments. The suites are housed on the same land as a Victorian-style residential heritage home. Each of its apartments or the suites boasts its own, separate entrance. The suites in particular make for the perfect option for a group seeking to holday together, but still want their own space.
Guests can make use of the braai (barbeque) facilities, take advantage of the off street parking and enjoy the complimentary Wi-Fi.
NEARBY ATTRACTIONS
Shopping
Mossel Bay Harbour
Mossel Bay Golf Estate
Mossel Bay Yacht Club
The Model Shipyard
Cape St Blaize Lighthouse
Shark Shack Backpackers
Shark Shack Backpackers comes as another highly recommended option for self-catering accommodation in Mossel Bay. Here you can expect to find some of the best surfing spots as well as enjoying some great activities like shark cage diving. There are several options in restaurants nearby, where you can try the local Mossel Bay cuisine, fresh seafood, sushi, etc.
NEARBY ATTRACTIONS
The ATKV-Hartenbos Museum of the Great Trek
Mossel Bay Food Route
Pinnacle Point Beach
Bartholomeu Dias Maritime Museum
Botlierskop Private Game Reserve
Garden Route Casino
Hartenbos Waterpak
Garden Route Safari Camp
Garden Route Safari Camp comes in as a higher-end option in Mossel Bay accommodation. This Garden Route game lodge provides a wildlife experience for tourists visiting the Garden Route, but are perhaps looking for a little bit more of that wildlife experience. It is privately owned, making for a safari camp that offers a great wildlife experience along with your Mossel Bay accommodation. This is a malaria-free area.
While visiting us you will be delighted to see eland as they share the habitat with zebra, nyala, blue wildebeest, impala, bontebok, ostrich, waterbuck, southern giraffe, an abundance of birdlife, as well as lions.
The Point Hotel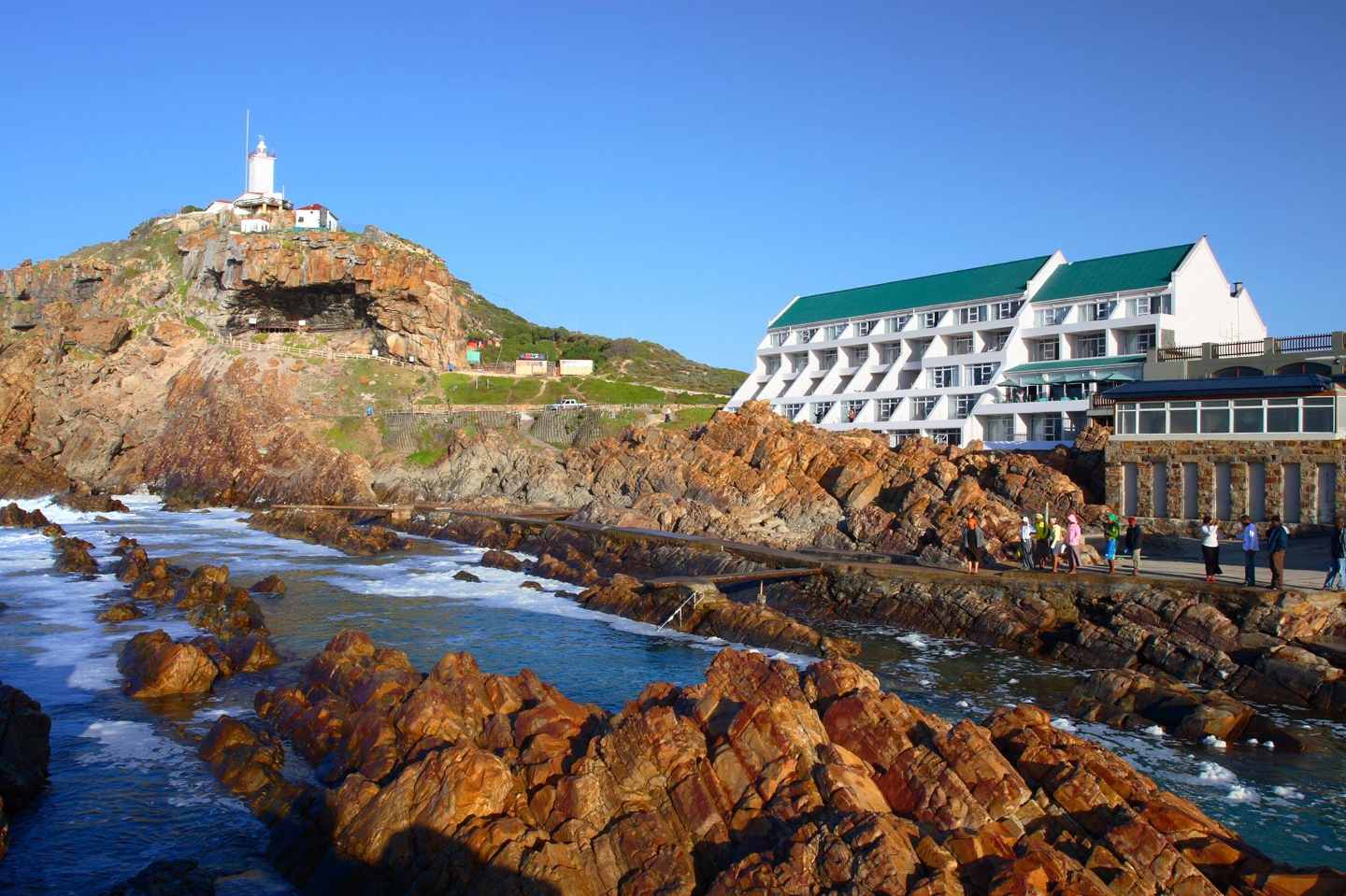 The Point Hotel is a 4-star graded hotel in Mossel Bay, offering accommodation in 52 guest rooms available.
Located below the lighthouse, on the rocks, this character-filled Mossel Bay hotel offers spectacular views along many other travellers' delights. From the sanctuary of your hotel room balcony, you can marvel at the Humpback and Southern Right whale, or perhaps even catch sight of the dolphins passing.
In-House Dining at the Lighthouse Restaurant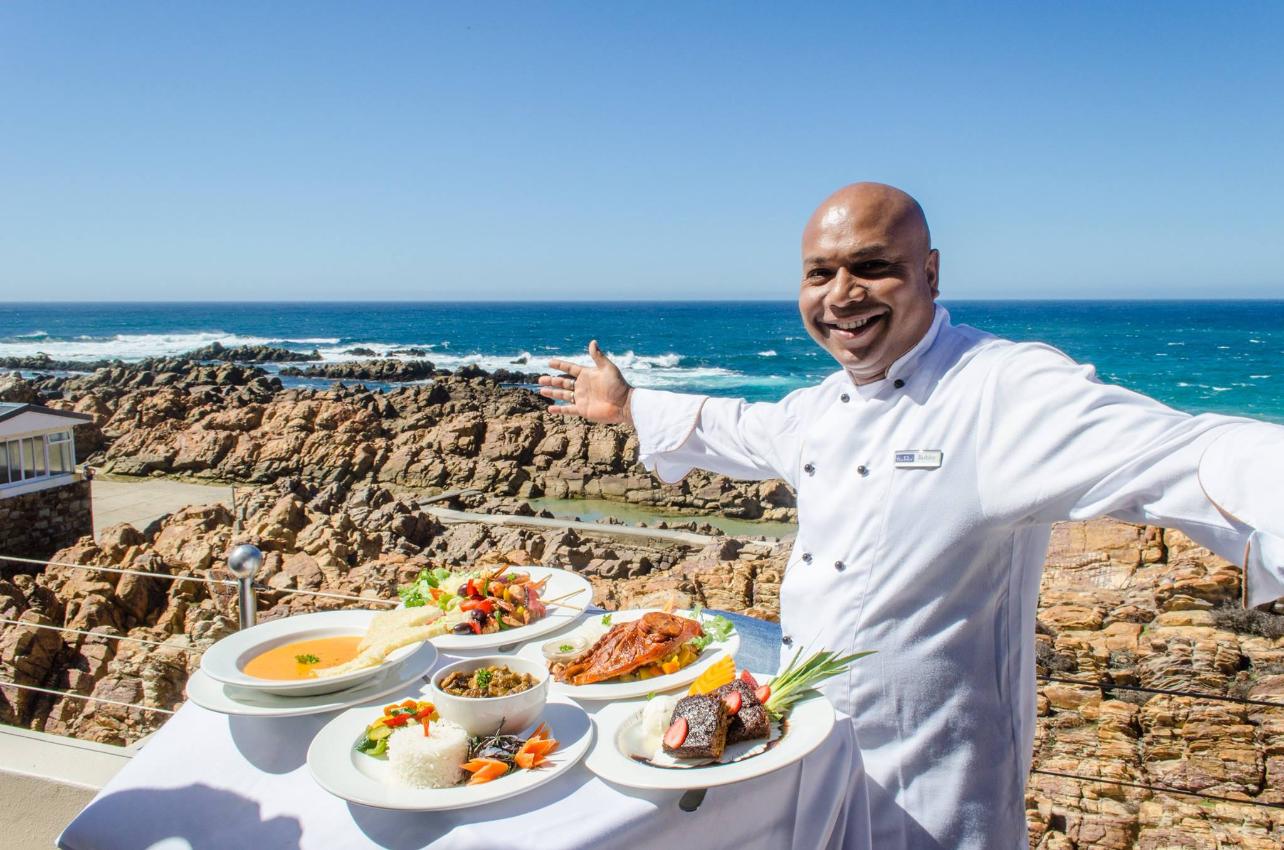 The Lighthouse Restaurant, which is accessible off the foyer of the Point Hotel, serves a choice from a Continental or Full English Breakfast Buffet, and offering a varied a la carte menu that specialises in the famous seafood of Mossel Bay! Enjoy a cocktail while watching Africa put on a characteristically beautiful show of one of her famous African sunsets…
Must-Sees & Must-Dos in Mossel Bay
Mossel Bay has enjoyed the honour of being a beach holiday destination for South African locals over a period of more than a century. The major attractions were at the time, and largely still are, the warm, dry and stable weather, along with the Indian Ocean and its beautiful beaches. Now though, with great roads, modern modes of private transport, and the sprawling development of inland accommodation, more broadly speaking, the collective environment of the area is now vital to the tourism economy. This is of course including the Outeniqua Mountains (to the north), and to the west, large stands of Cape macchia  (fynbos).
Mossel Bay's location exactly halfway between Cape Town and Gqeberha makes it a popular stopping-off and resting point on the travel itineraries of local and international visitors to the Western and Eastern Cape Provinces. So it's exactly halfway between the Cape Winelands and the Eastern Cape's nature reserves.
The Bartolomeu Dias Museum Complex is the largest of Mossel Bay's museums. Originally designed as a celebration of the arrival of Bartolomeu Dias and his crew (3 February 1488), and to offer protection to the "Post Office Tree", the Museum Complex now offers a wider scope into the history of Mossel Bay. This covers cultural, environmental, and archaeological perspectives.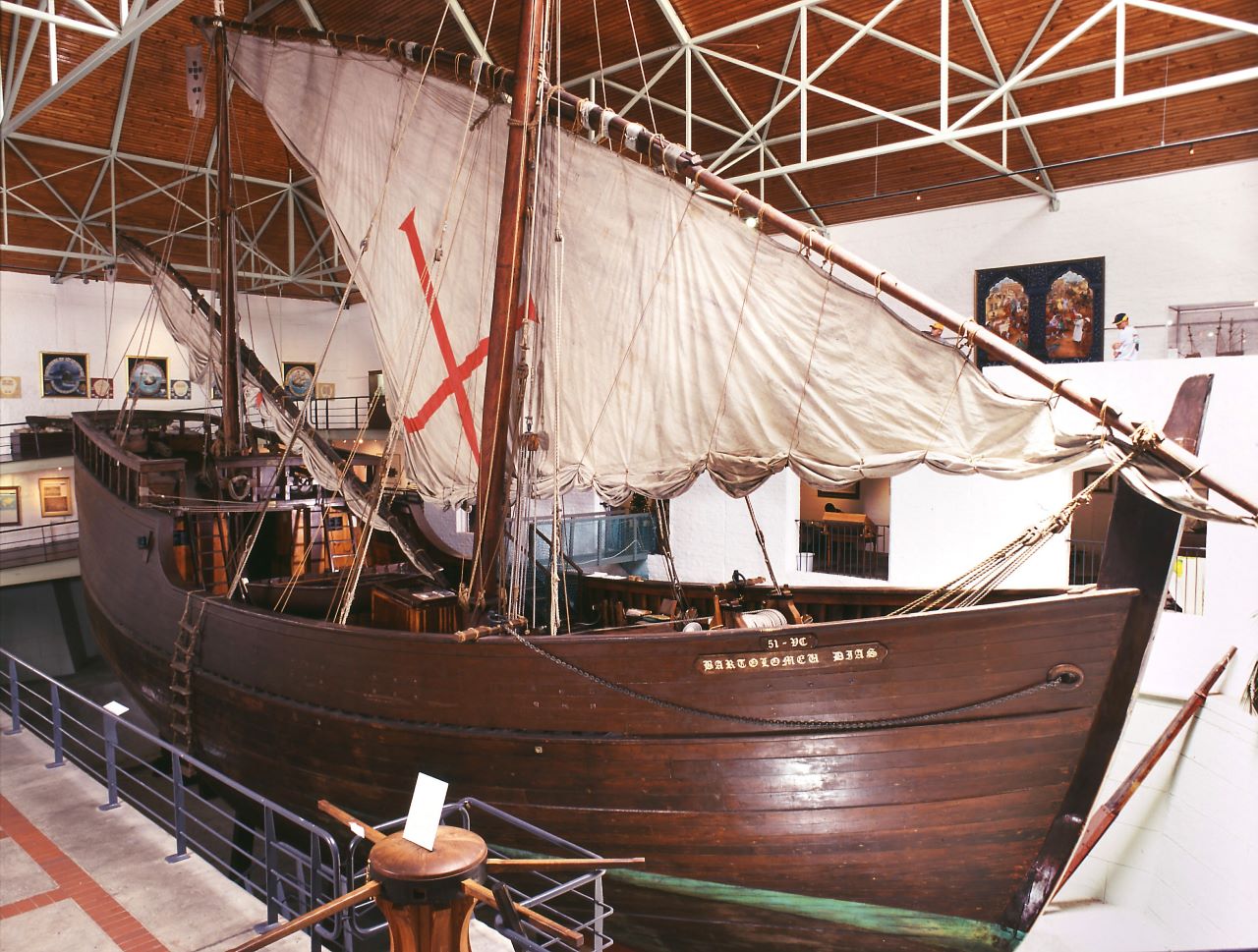 The Mossel Bay Archaeology Project was birthed to examine the ancient middens contained in the Pinnacle Point Caves. Most lie about 12 km east of Cape St Blaize. The Project's focus is on a series of caves that were cut into the sea-facing cliffs on the southern boundary of the Pinnacle Point Beach and Golf Resort, occupied between 170,000 and 40,000 years ago (by Middle Stone Age people).
Rock Art
The mountains to the north of Mossel Bay make for an important repository of South African rock art. This art, which now has association with shamanistic practices, with the rock itself is thought to have been considered a link between this world and the spirit world. It was created by the San people, with the specimens possibly dating back as far as 27,000 years.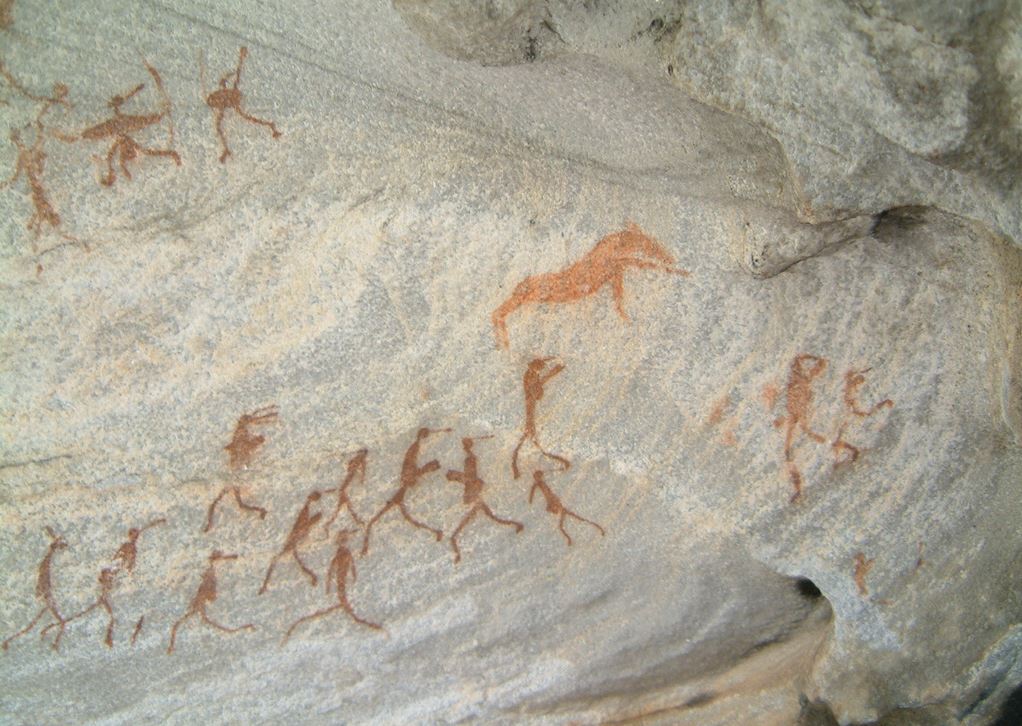 Note: The rock art sites surrounding Mossel Bay are generally located on privately-owned land, so they therefore are only accessible to the public as part of the service of a registered guide. Their job is basically to protect the integrity of the pieces.
In Mossel Bay, you will never, ever, be short of fun things to do. Available activities are aimed at the entire family and there is fun-filled stuff to do for every age group and all tastes.
Skydiving
Mossel Bay offers tandem skydiving in the Garden Route, with a rare option to land on the beach of the Indian Ocean coastline.
So, if you are an adrenalin junkie, or just possess a more adventurous spirit, you will find plenty of things to get gripped by. Take your pick from surfing, sky-diving Shark Cage Diving, heli-flips, scuba or even deep sea fishing. Perhaps you like to be land-based, in which case sand-boarding, quad biking, horse-riding, mountain biking, hiking or a safari might interest you more.
Eat?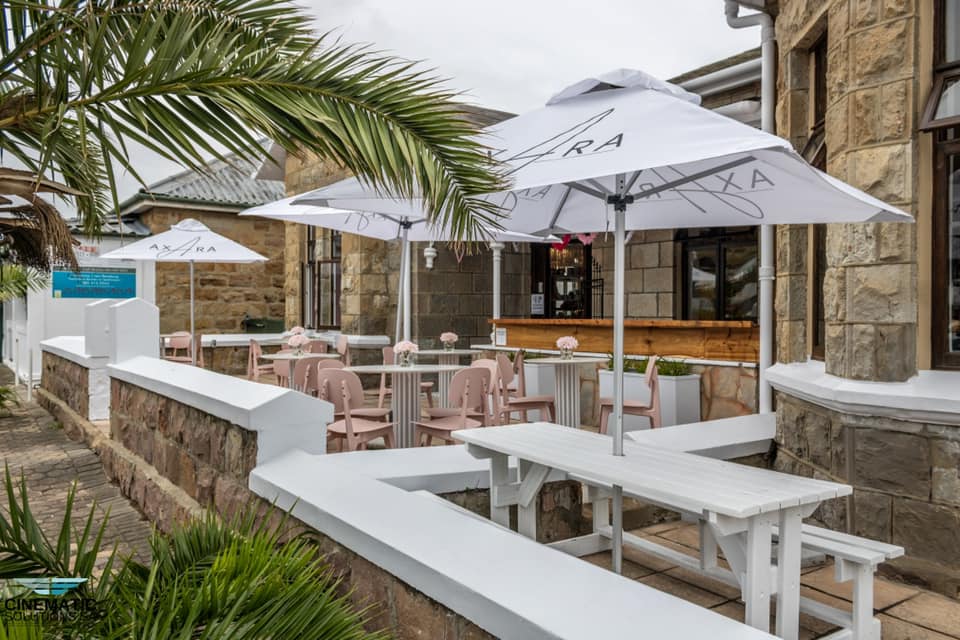 Mossel Bay does coffee and does it well — Marsh Street coffee hub will have you finding master roasters throughout the entire area. Not to mention treats such as cakes, sweets, tarts, and puddings…  Check out the pubs, restaurants and coffee shops in Mossel Bay…
Cafe Gannet Fine Dining, Mossel Bay, Western Cape, South Africa
Source: South African Tourism
Travellers' Admin — Health, Safety and Connectivity
Is Mossel Bay safe?
"Come to Mossel Bay and experience the white beaches, the best weather, the friendliest people and it is by far the safest place in South Africa. Mossel Bay grows on you, come at least for 2 or 3 days and you will love it!!!" — A review left by a Mossel Bay guest.
Obviously vigilance needs to be exercised, so don't let your guard down completely, but at the same time, enjoy yourself, be free and explore one of the safest places in South Africa.
These emergency numbers (toll-free) are worth having on hand, whenever traveling through South Africa… Just in case.
The number for the police is 10111
The number for an ambulance is 10177
The emergency number if you are on a mobile phone is 112
Stay Connected
Wi-Fi internet is readily available in most establishments you'll be booking your accommodation with, but check to make sure. Otherwise you would likely have acquired your mobile SIM card as you entered the country, on which you can load mobile data and buy prepaid credit to make voice calls with.
Coming to Mossel Bay? Here's What You Need to Know…
Mossel Bay is a coastal village located on the south coast of the Western Cape Province, in South Africa. It situated on the Garden Route half way between Cape Town and Gqeberha (formerly Port Elizabeth).  The history of Mossel Bay has close links to maritime activities, with its lighthouse first lit up in 1864. A selection of pleasure boats along with other international seafarers dock here regularly using the modern docking facility.
What is Mossel Bay known for?
One of the most iconic and famous landmarks in Mossel Bay is the Post Office Tree, where ancient seafarers, on their east-bound way, left their letters to be sent home in a shoe or indisde an iron pot. Sailors going back to Portugal would collect these letters, and so the first Post Office in Southern Africa was formed.
Is Mossel Bay worth visiting?
Because of its rich history, there are many museums in the town to visit. These include the Maritime Museum, the Granary, Cultural History Museum and the Shell Museum. The Dias Museum Complex is a signpost of the spot of the historical landing of Dias in 1488 and is also a replica of the Caravel, also housed in the museum.
Mossel Bay boasts the second mildest all-year-around climate in the world, according to a Guinness World Records entry. So it's only behind Hawaii. The town also boasts the only north-facing beach in the whole of Southern Africa.
Seal Island is a natural home to a breeding colony of hundreds of seals with their pups in-tow, which can be viewed from the daily cruise or even from land. Dolphins sometimes also make regular visits, coming in large schools to these shores. They can be viewed from land.
Mossel Bay is a sportsperson- and water-sport-enthusiast's paradise, offering a wide variety of adventure sports, including shark cage diving, wreck diving, surfing, and even snorkelling.
Can you swim in Mossel Bay?
More "conventional" sport facilities are also in abundance, with options such as squash, golf, tennis, swimming, indoor heated pools and horse-riding.
Luxury lodges, camp sites, caravan parks and B&Bs are spread all around the town… hotels too, as well as premium beach-front accommodation. Many restaurants line pretty much every corner of Mossel Bay, featuring a range of different foods and offering something for absolutely everyone!