Let's go shopping at the malls in Stellenbosch, one of South Africa's second oldest towns and most inspiring wine, food, art and cultural destination. The scenic Stellenbosch Wine Route is the oldest in the country and one of the most popular destinations for local and international visitors alike. We'll introduce you to unforgettable cellar door experiences, award-winning wine estates, celebrated restaurants and Stellenbosch's unique and enviable lifestyle.
Stellenbosch is an ideal getaway year-round. This historic town centre is a living museum with vibrant street culture. Expect friendly locals, a host of lively events (from art, music and history to outdoor pursuits) and natural scenery to rival even our finest grape.
Stellenbosch is a town in the Western Cape province of South Africa, situated about 50 kilometres (31 miles) east of Cape Town, along the banks of the Eerste River at the foot of the Stellenbosch Mountain. The town became known as the City of Oaks or Eikestad in Afrikaans and Dutch due to the large number of oak trees that were planted by its founder, Simon van der Stel, to grace the streets and homesteads. Let us show you below where to shop when in the beautiful town.
Our list of Malls in Stellenbosch
Eikestad Mall
Eikestad Mall is situated in the heart of Stellenbosch, the second oldest town in South Africa. The Mall has been part of the Stellenbosch CBD since the 1970s and continues to grow with the town, to meet shoppers' evolving needs.
Mall Features
This modern mixed-use development offers over 100 shops, including fashion, health & beauty, restaurants, fast food, groceries, and services as well as exclusive office space and luxury apartments.
With anchor tenants like Woolworths, Checkers, Game, Truworths, Foschini, Clicks, Ackermans and Food Lover's Market, together with a variety of smaller retailers, including two General Health Practitioners, a podiatrist, physiotherapist, optometrist and a dentist, you'll find everything your heart desires under one roof.
For added convenience and peace of mind, there are undercover parking bays, with entrances from Plein, Bird and Andringa Streets, as well as 24-hour security. Whether it's daily essentials, little luxuries or a delicious treat, the mall has got it all at Eikestad Mall.
More Info
Maps
Location: 1 Victoria St, Stellenbosch Central, Stellenbosch, 7600
Website: https://www.eikestadmall.co.za 
---
Stellenbosch Square
Stellenbosch Square is a high-class shopping mall in the town of Stellenbosch. The mall is located in the peaceful surrounds of Stellenbosch, in the Cape Winelands.
Mall Features
The mall boasts over 40 sophisticated stores, a large number of free parking bays and 24-hour security, ensuring you will have a stress-free time shopping there.
The shops at Stellenbosch Square go beyond providing everything you need for your self-catering stay in the town. Go and stock up for your accommodation experience with grocery and convenience stores and shop for treasures to take home with fashion, accessories, and home and decor stores. Additionally, there are speciality shops as well as outlets offering print and design. When you need some refreshment, take time out to enjoy a meal at the restaurants and coffee shops at Stellenbosch Square. From what you can see, you will have a wonderful shopping experience at Stellenbosch Square. Experience the open-air feel with beautiful surroundings. Secure FREE undercover and open-air parking with 24 Hour Security
Parking for the disabled, with wheelchairs available on request. The bathrooms offer baby changing facilities for parents.
More Info
Maps
Location: Webers Valley Rd, Jamestown, Stellenbosch, 7600
Website: https://www.stellenboschsquare.co.za 
---
Stelmark Centre
Stelmark is a shopping centre in the heart of Stellenbosch. Home to your local Pick n Pay, Stelmark offers convenient, easy shopping – the Stellenbosch way.
Mall Features
This open-air shopping centre is anchored by other national stores such as Crazy Store, Cash Crusaders, Hungry Lion and Capitec Bank. It is a walking distance of the Stellenbosch University Campus as well as very close proximity to the more residential areas in Stellenbosch, this centre services most of the local needs for grocery shopping. With a large parking lot to cater for the volumes of people coming and going daily, this shopping centre has everything you could ask for.
More Info
Maps
Location: Merriman Ave, Stellenbosch Central, Stellenbosch, 7600
Website: https://stelmarkcentre.co.za 
---
Ipic Shopping Centre Die Boord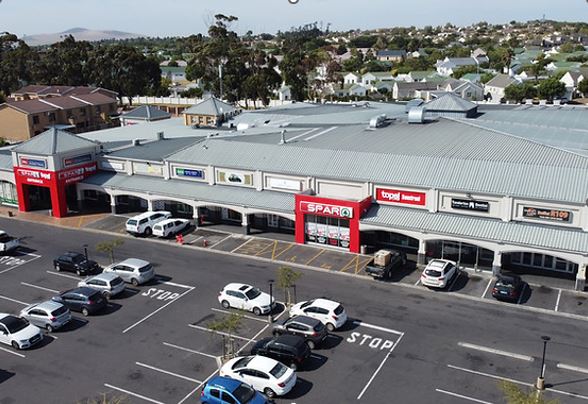 Ipic Shopping Centre Die Boord offers its clients a balance between modern-day convenience and first-class retail in a friendly and warm environment.
This community retail centre is conveniently located just off the R44 as one enters Stellenbosch on the left. It is also located next to the medical suites and medical clinic hospital.
Mall Features
It is a typical community convenience centre offering a spar, pharmacy, hair salon coffee shop etc. Parking is reasonable, safe and convenient for shoppers, with security available so shoppers so you can shop with ease. Ample parking space is available within the vicinity of the Shopping centre. Stellenbosch Medi Clinic is a stone's throw away from the centre. This centre serves mainly Die Boord, the southwestern section of Stellenbosch and the neighbouring schools. What a great shopping experience in the heart of the vineyards and wine routes.
More Info
Maps
Location:
Website: https://ipicshopping.co.za 
---
De Wet Centre
Step into a magical sensory overload when you enter the trendy emporium that is The De Wet Centre. The two-story character building has retail and offices to let in Bird street Stellenbosch.
Mall Features
The Centre consists of boutique outlet stores, eateries and art galleries that make you feel like a tourist in your town. Park your car and do a tour on foot, because everything is within walking distance. This square is situated in the heart of old Stellenbosch and it offers a quaint, upmarket shopping experience. The space on offer is ideal for a small restaurant, as the seating can spill out onto the central courtyard. It is close to public transport and all other amenities. This is a centre offering boutique shopping centre in the historical core of Stellenbosch. Tenants include Vida e Caffe, Kauai, Green Gate Deli, Genki Sushi and SMAC Art Gallery. This centre and its unique European feel make it one of our most exciting shopping experiences. This is a beautiful, peaceful centre. It's wonderful to go here and experience some calm amidst the busy Stellenbosch centre. Bonus, the interesting bicycle parking spot. Great atmosphere like no other place in Stellenbosch. Sheltered from the rest of the bustling town, the De Wet Centre has seating under the canopy of trees and a couple of fountains.
More Info
Maps
Location: Bird St, Stellenbosch Central, Stellenbosch, 7600
---
Stone Square Medical & Shopping Centre
Stone Square Medical & Convenience Shopping Center is situated in the heart of the Stellenbosch Winelands on the R44.
Mall Features
Perfectly situated in the Welgevonden Estate on the northern fringe of Stellenbosch. Safe, secure environment with magnificent views of the Simonsberg Mountains, dam and vineyards. It is anchored by one of the major national stores like Kwik Spar, Spar Pharmacy etc. This open-air centre has easy and convenient parking access including underground parking while you shop or have a meal at one of the restaurants available. Very nice shopping experience and friendly staff at that, so visit the centre and experience the culture. The local pizza takeaway is well supported by the locals. There are a few line shops offering cellphone repairs, water and biltong. Convenient for a quick stop-and-go experience.
More Info
Maps
Location: 2A Hendrikse Rd, Cloetesville, Stellenbosch, 7600
---
Somerset Mall
Nestled between the quaint town of Somerset West and the picturesque Strand, sitting conveniently at the intersection of the N2 & R44, you will find Somerset Mall.
Mall Features
Striking the perfect balance between the friendly and familiar essence of a local market and an all-inclusive retail offering of a trendsetting, global shopping destination and with an impressive store directory list of over 200 stores, the mall has something for everyone. An authentic home-away-from-home to anyone who visits.
The store's offer includes an array of local and international retail brands including a wide selection of speciality retailers, restaurants, cafés and coffee shops, which serve a superb selection of everyday staples and delicacies.
At the heart of Somerset Mall is you, the shopper. The mall strives to stimulate all the senses and provide you with an authentic and holistic lifestyle shopping experience. They are explorative in their approach and through unique forms of entertainment and innovative exhibitions curate the ideal environment for a fully immersive shopping experience. One you will not easily forget.
Whether you are visiting to indulge in some leisurely me-time, to tick off the essentials on your grocery list or you're out enjoying some quality time with your family, Somerset Mall is guaranteed to meet and exceed your every expectation.
Somerset Mall can be an amazing adventure for a little explorer, but lost children are unfortunately a reality and the mall wants to keep them safe. Collect a Kids First Wristband from our information desks located opposite Game and Edgars. This will enable our security team to reunite children and parents if your little one wanders.
Designated parking bays are located at each of Somerset Mall's entrances to ensure easy access for both the physically disabled and senior citizens. Temporarily enabled parking discs and hired wheelchairs are available at the mall's Customer Services Desk.
A limited number of complimentary wheelchairs are available for hire on presentation of your I.D. or driver's licence and R100 deposit, on a first-come, first-serve basis. Your I.D. or driver's licence will be held at the desk until the wheelchair is returned.  All entrances offer wheelchair access, and disabled toilet facilities are available throughout the centre for your convenience.
Each entrance has a wheel-chair call button for any assistance required in the parking area.
The mall offers 670 undercover parking bays, over 3 300 free open-air parking bays, and 24-hour security to give you peace of mind while you enjoy the 1,3km stretch of shopping. Somerset Mall Security works to enhance the safety and security of its guests, tenants, and employees.
More Info
Maps
Location: Centenary Drive, Intersection of N2 & R44 Somerset West, Somerset West, 7130
Website: https://www.somersetmall.co.za