If you are looking for the best malls in Port Elizabeth, you are in the right place. Known as the "Friendly City", Port Elizabeth is located on the south-eastern coast, 763 km east of Cape Town. A superb value-for-money holiday base, Port Elizabeth offers a diverse selection of attractions as a family-fun holiday destination including scenic nature trails, historic heritage, magnificent wildlife, cultural experiences and countless water sports activities.
Algoa Bay's 40 km of breath-taking coastline boasts a perfect combination of warm water, and protected beaches and is complemented by Port Elizabeth's wonderful climate, which has been rated as having the fourth best weather of any coastal city in the world.
The Port Elizabeth area also supports the most diverse array of vegetation types in South Africa as five of the country's seven terrestrial biogeographic areas are represented in the Eastern Cape. We are going to be introducing some of the malls to experience while visiting Port Elizabeth.
Our list of Malls in Port Elizabeth
Boardwalk Mall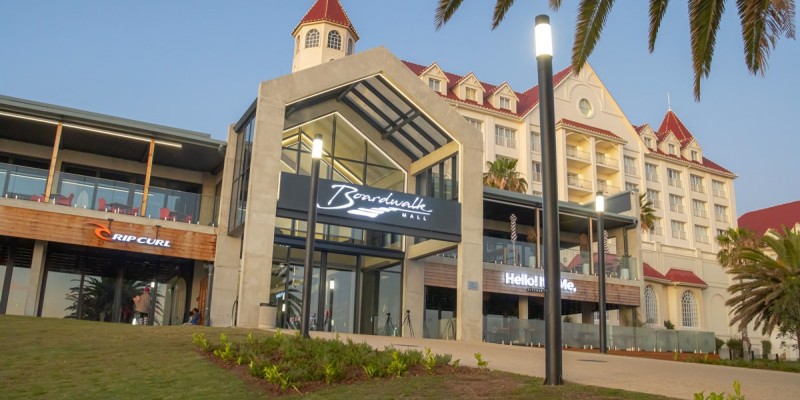 The Boardwalk Mall is the newest and possibly most popular mall in PE, located in the suburb of Summerstrand, along Marine Drive. The most modern and aesthetically beautiful mall in Gqeberha, the mall has the beach idyllically poised at its front doorstep
It is part of the Boardwalk,a premier leisure destination situated in the beachfront area of Port Elizabeth, South Africa. It offers a combination of entertainment, dining, retail, and accommodation options. The complex is designed to resemble a Victorian-era boardwalk and offers a vibrant atmosphere for visitors.
Here are some key features and attractions you might find at The Boardwalk in Port Elizabeth:
Casino: The Boardwalk Casino offers a wide range of gaming options, including slot machines, table games, and poker. It is a popular destination for those looking for some entertainment and a chance to try their luck.
Restaurants and Bars: The complex boasts a variety of restaurants, cafes, and bars where visitors can enjoy a diverse range of cuisines and drinks. From casual dining to fine dining experiences, there are options to suit different tastes and preferences.
Retail Shops: The Boardwalk features a selection of retail outlets where visitors can indulge in some shopping. From boutique stores to well-known brands, you may find a range of products such as clothing, accessories, souvenirs, and more.
Entertainment: The Boardwalk offers various entertainment options, including a cinema complex, live performances, concerts, and events. There may be a schedule of shows and performances that cater to different interests.
Baywest Mall
Shoppers are spoilt for choice at Baywest Mall, the Eastern Cape's only destination centre, packed with a wide variety of energising retail outlets, a Fun Factory and a Food Court, Baywest merges the likes of Fashion, Food and Fun in a safe and modern environment.
Mall Features
Baywest is one of the newer modern malls in Port Elizabeth and offers convenient and secure access controlled parking, with over 3500 undercover and open parking bays available on both the Lower and Upper Ground. There is also a public transport drop-off and pick-up point located on the Lower Ground at Entrance 2, as well as a designated UBER parking bay on the Lower Ground at Entrance 4.
There is a Carwash service offering a superior car wash and service. Located on the Lower Ground, in the undercover parking at Entrance 3. Baby changing facilities are available in the family bathrooms, which are located on both the Lower Ground, as well as the Upper Ground of the mall. These facilities are easy to access and pram friendly. They provide a private and secure environment for you and your little one.
Each entrance is wheelchair friendly, with several designated disabled parking bays. Kindly note that you require a disability parking permit to utilise this parking. Complimentary wheelchairs are available from the Information Desk on a first-come, first-serve basis as there is a limited number available. To loan a wheelchair, a valid ID or Drivers License is required. Disabled bathroom facilities are located throughout the centre for your convenience. 
An electric car charging facility is available on the Lower Ground at Entrance 2 in the undercover parking area. A Prayer Room is available on the Lower Ground at Entrance 1 in the undercover parking area.
More Info
Maps
Location: 100 Baywest Blvd, Hunters Retreat, Gqeberha, 6017
Website: https://www.baywestmall.co.za 
---
Walmer Park Shopping Centre
Walmer Park Shopping Centre is an exclusive and upmarket shopping destination conveniently situated in the leafy suburb of Walmer. It is certainly one of the most popular malls in Port Elizabeth.
Mall Features
 This luxurious centre offers shoppers over 43 000m² of retail floor space and over 150 stores comprising several top national and international retail brands.
Walmer Park's range of coffee shops, restaurants and speciality stores offer a decadent variety of delicacies that will tempt any palette- whether it be for business or pleasure. All your banking, travel and foreign exchange needs can be met in the Centre, which houses all of South Africa's major banks, accompanying ATMs as well as top class travel agencies.
With ample, secure, free on-grade parking conveniently located close to our five entrances to the shopping centre, as well as paid-for parking in their underground parking garage provides visitors with the convenience of shopping comfortably during rain, hail or snow!  Their underground parking garage also provides you with a fantastic 'Wash-e-Moto' car wash service, while you shop.
The Centre's exclusively and unique shopping experience offers you the "very best" in retail. The Shopping Centre offers its customers over 992 conveniently located parking bays, of which 747 bays are located in a safe, secure basement parking garage, from which the mall can be accessed from various conveniently located lifts and staircases.
Safety of the tenants and clients is a major priority, hence the shopping centre has 24-hour on-site security personnel and CCTV cameras located throughout the shopping centre and car parks.
More Info
Maps
Location: Main Rd, Walmer, Gqeberha, 6070
Website: https://www.walmerparkshoppingcentre.co.za 
---
Sunridge Village
Sunridge Village Shopping Centre is situated on the western side of Port Elizabeth in the peaceful and leafy suburb of Sunridge Park, which has always been a sociable spot. In 1800 the original farmstead was a gathering place for local farmers and travellers, en-route to Port Elizabeth, resulting in informal trading of produce and wares while providing a place of rest. It was a farm where people gathered to find out the news of the day and to outspan their ox wagons before the final trek into Port Elizabeth. This area was the furthest eastern boundary of Khoisan settlement and many place names in the area were derived from traditional Khoisan language albeit heavily altered over time. This explains why "streets" in the Centre have been given original Khoisan names.
Mall Features
All in all, 51 shops covering approximately 9 000m2 offer a true "one-stop shop" and thus a complete and more holistic shopping experience. Sunridge Village features visually striking Cape Vernacular architecture, cobbled and paved pathways, wrap-around verandas, a Village Green and a Village Square style meeting area. The outdoor experience enhances the retail experience at "the Village". More specifically, the use of street furniture enhances the al-fresco experience which is punctuated by benches, tree grids, arrow boards, street name signs and slate-clad refuse bins, all contributing to the perception of "Village street".
The safety of shoppers features prominently, and with this, in mind, there is a surveillance system with more than 40 CCTV cameras. This feature, together with competent and customer-friendly security personnel, means that the entire shopping centre is covered 24 hours a day. 
Other features include a unisex baby changing facility and paraplegic access to all shops. A wheelchair is available from security for the use of shoppers.
The award-winning indigenous gardens which surround the Centre were established after all alien vegetation, including thirsty Eucalyptus trees, were removed. Indigenous trees such as Henkel's Yellowwood, White Stinkwood, Acacia Karoo, Fever Trees, Cabbage Trees, Tree Aloes, Kei-Apple, Cape Ash and Karree have replaced the alien invaders. To assist the public, name tags appear on trees in four different languages. 
More Info
Maps
Location: Aster Ave, Sunridge Park, Gqeberha, 6001
Website: https://www.sunridgevillage.co.za 
---
Emerald Square Shopping Centre
Emerald Square Shopping Centre is home to a variety of retail shops. Ideally located in a prime position on Buffelsfontein Road, Mount Pleasant, Port Elizabeth, the centre epitomises convenience shopping at its best.
Mall Features
This establishment includes retail space and basement parking. Anchored by SuperSpar and Tops Liquors, the additional 10 shops comprise a variety of exciting tenants. Highly visible from passing vehicular traffic and close to public transport makes this centre a popular choice for both tenants and customers.
Some of their national tenants include Checkers, Superspar, BUCO, Food Lover's Market, PEP Stores, Mambo's Plastic Warehouse, Gelmar, Debonairs, Steers, Panorottis, Spur, Cashbuild, Bradlows, Liberty Life, Rage, Cosmetic Connection, OK Furniture, Nedbank, and Boxer Superstores. 
More Info
Maps
Location: Buffelsfontein Rd, Salisbury Park, Gqeberha, 6070
Website: http://www.emeraldsquareshoppingcentre.co.za 
---
Walker Drive Shopping Centre
Walker Drive Shopping Centre is your friendly neighbourhood shopping centre situated on the corner of Walker Drive and Kabega Road.
Mall Features
The Centre's anchor tenant is Pick 'n Pay, a family-owned store where Mark Klukow and his friendly team are always ready to assist. The larger national tenants include Sasol, Builders Express, Ackermans, Pep Stores, Crazy Store, Vodacom, Torga Optical and Pick 'n Pay Clothing.
There is ample free parking, convenient shopping hours, a baby's room and easy accessibility for the disabled. The safety of our shoppers is very important to us, and we have security guards on duty 24 hours a day. So if you're looking to do your monthly grocery shopping, topping up on those daily essentials, have a romantic date or you're just grabbing coffee and lunch with the girls, look no further than Walker Drive Shopping Centre, all the right choices.
More Info
Maps
Location: Corner of Walker Drive and, Kabega Rd, Kamma Ridge, Gqeberha, 6025
Website: http://www.walkerdrive.co.za 
---
Moffett on Main Lifestyle Centre
The upmarket Moffett on Main Lifestyle centre is home to chic décor stores, clothing stores, indoor entertainment and distinctive restaurants that offer you a whole new approach to lifestyle living for the entire family. 
Mall Features
Located in its prime position on the corner of Main Road Walmer and the William Moffett Expressway, this new centre epitomises comfort, luxury and leisure. This impressive 42 000m² establishment includes 28 500m² of retail space with 700 basement parking bays. Anchor tenants include Checkers, Galaxy Grill, and Baby City, each of these stores represents a first in the Eastern Cape.
The mall offers 1-hour free parking to shoppers in the basement parking, the parking areas are safe and secure. Moffett on Main Lifestyle Centre is also installed with CCTV and has 24/7 security. Prayer rooms are available to make use of in the centre.
More Info
Maps
Location: Moffett On Main Lifestyle Centre, 109 17th Ave, Charlo, Gqeberha, 6070
Website: https://www.moffettonmain.co.za